March 23rd, 2015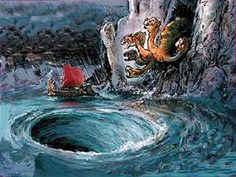 Soundtrack to today's chapter: "Wrapped Around Your Finger" by the Police, since it names Scylla and Charybdis.
Comment here or on Twitter with the hashtag #TCUlysses
I feel like a bad moderator, but I did not enjoy this week's reading. I felt good about last week's book 8, felt like I understood it and enjoyed the time in Bloom's head. This week, though, we're back in Stephen Dedalus' head, and I don't like it there.
Stephen's something of a self-satisfied intellectual ass, and he and the others spent the book discussing Shakespeare and Aristotle and Plato and the intellectual wanking exhausted me. I wanted to run into the room, kick them all in the shins and run out again in a childish bid to bring them back to earth.
I read book 9, then read SO MANY PAGES of Gifford's notes on the book 9, then read the summary and analysis at Schmoop.com, and I'm not sure I have much more to offer you than:
Stephen and some of his friends sit around and pontificate on theories about Shakespeare.
I'm a Shakespeare geek. I love Shakespeare and enjoy nerdish discussions about who wrote the plays, and who was the model for which character. I did not enjoy them here, though. Stephen and the others lack a humor, lack the earthy realism of Shakespeare (and Bloom) that allows me to connect to the plays, their author, and dicussions about them.
What I believe we're supposed to take away is that both intellectualism and earthy realism are important, that art can (and should?) be based from life, and that Stephen is trying to figure out how to make art based on life. (Hint: get out of your head.)
What did everyone else think?
Join us next week on 3/30/15 for Book 10: The Wandering Rocks. The schedule for the rest:
4/6/15 discuss and tweet section 11
4/13/15 discuss and tweet section 12
4/20/15 discuss and tweet section 13
4/27/15 discuss and tweet section 14
(3 weeks to read the very long section 15 which we'll spit into three chunks)
5/18/15 read, then discuss and tweet section 15
5/25/15 discuss and tweet section 16
(extra week to read the longer section 17)
6/8/15 read then discuss and tweet section 17
6/15/15 discuss and tweet section 18
6/16/15 Bloomsday!
For reference, here are the past posts:
Ulysses readalong week 1, books 1 and 2
Ulysses readalong week 2, books 3 and 4
Ulysses readalong week 3, books 5 and 6
Ulysses readalong week 4: book 7
Ulysses readalong week 5: book 8