I get a lovely feeling in my heart when I'm sitting in a dark theater, munching popcorn, watching a movie while my kids laugh beside me–doing something I love, and sharing it with them. I have a much less warm feeling after the movie is over, and they make faces and say they hated the movie.
I don't take my kids to every kid movie that comes out. I take them to a few a year that trusted critics and other parents have recommended. Yet again and again, they seem to be engaged, laughing, enjoying and wham, by the time we're out the door, they are grumpy: How to Train Your Dragon (which they said they didn't like, but agreed to see again), Fantastic Mr. Fox, Princess and the Frog, Up, Secret of the Kells, Toy Story 3, Despicable Me, Megamind, and now Tangled.
I wasn't a huge fan of Tangled, either, though. Look, it's a pretty blond princess who's been kidnapped by a witch with kinky black hair! Look, an older rascal who is tamed by the virginal princess into a good man! The major building blocks of the movie were dry as dust, with uncomfortable racist and sexist undertones. Really, the whole plot is that of the standard bodice ripper that clearly no one at Disney has taken the time to interrogate enough, if at all.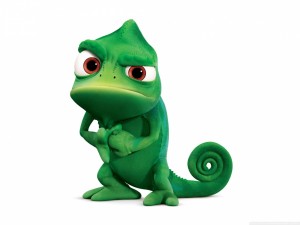 Here's what I liked: Pascal the chameleon was great. The name of the thugs' bar is The Snuggly Duckling. I think that's it. My boys liked Pascal, and they liked the parts with physical humor. That was about it.
I don't know what I'm going to do about my boys and movies. About the only movies I can get them to approve of are most Pixar flicks, most Miyazaki flicks, and Mary Poppins. Oh, yeah. And the Star Wars movies. I'm going to keep trying, though. But clearly, modern kids' movies don't seem to be the way to go.