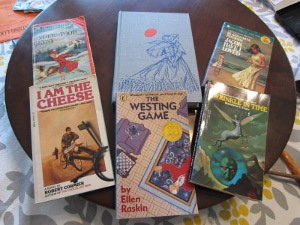 I combed the stacks where I live now (like many of you, I've lived so many places that 'home' is a complicated word, fraught with baggage) for some of the books for this summer's reading project, the Summer of Shelf Discovery. Skurnick writes about a whopping seventy-plus books. While the project is to just read one of them a week, I suspect I may get a little, um,. ambitious, about acquiring and reading books. But here's what I started with:
The Witch of Blackbird Pond by Elizabeth George Speare
The Westing Game by Ellen Raskin
I Am the Cheese by Robert Cormier
Jacob Have I Loved by Katherine Paterson
Understood Betsy by Dorothy Canfield (Fisher, though that's not on this edition)
A Wrinkle in Time by Madeleine L'Engle (with the sci-fi 1976 cover)
Oh, I'm looking forward to reading these again.