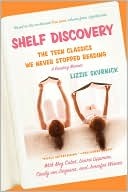 Welcome to the Summer of Shelf Discovery Readalong! The "assignment" is to read a chapter a week of Lizzie Skurnick's Shelf Discovery: The Teenage Classics We Never Stopped Reading, plus a book a week from each chapter. (Overview here.)
But really, do what you want. Read Shelf Discovery, or don't (though I do recommend it.) Read a book a week. Or don't. Read a related book to that week's theme. Or don't. Heck, if you just want to re-read Are You There God It's Me Margaret, join us next Monday on June 18. Basically, read what you want to, but I hope you'll join in the discussion of these books about coming of age that were read when we were coming of age.
This week, we'll "talk" in the comments section about Chapter 1, "Still Checked Out: YA Heroines We'll Never Return", and any of these, which are from the chapter:

Starring Sally J Freedman as Herself by Judy Blume
Danny, the Champion of the World by Roald Dahl
The Great Brain by John D.Fitzgerald
Harriet the Spy by Louise Fitzhugh
From the Mixed-Up Files of Mrs. Basil E. Frankweiler by E.L. Konigsburg
A Wrinkle in Time by Madeleine L'Engle
Farmer Boy by Laura Ingalls Wilder
Ludell by Brenda Wilkinson
Or comment on a book you enjoyed as a teen that has a memorable heroine, or a modern book that you think belongs in this "canon." (Katniss? Lisbeth Salander?)
For week 1. I read the Foreward by Laura Lippman, the Introduction by the author, and Chapter 1, "Still Checked Out: YA Heroines We'll Never Return."
Skurnick and her guest writers, like Lippman and Anna Holmes (who wrote on Harriet the Spy), all pull something out of the books and reading process that makes we want to nod my head vigorously in agreement.
From Laura Lippman's Foreward:
By the time we realize the profound influences of our youthful reading lists, it's too late to undo them. Yes, if I knew then what I know now, I would have read more seriously and critically during those crucial years that my brain was a big, porous sponge.
From Skurnick's Introduction:
Some of the lives I read about were very similar to mine…But it wasn't about finding myself–or not finding myself–in the circumstances of a girl's life, as much as I might be fascinated by it. It was about seeing myself–and my friends and enemies–in the actual girl.

It might have begun with the covers. Most were either snapshots or looked like soft paintings of snapshots (whither, whither the painted cover?), with girls who were neither good-looking nor not-good-looking
(Aside: as I've been combing the clearance shelves of used bookstores in my areas, I've been eschewing newer, nicer copies for older ones with painted covers. And imagine my surprise when my mom sent me a copy of Meet the Austins, though it's not on Skurnick's list, and I recognized myself on the painted cover. Those who knew me in grade and middle school can agree or not, but I swear, that's me under the tree on the left, reading a book.)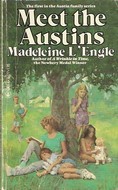 I loved this, from the book report on Starring Sally J. Freedman as Herself by Judy Blume (which I didn't know was autobiographical) on not knowing stuff from a book, and using it incorrectly in the world:
I wonder if another reason we swoon for Sally J. is that, as readers, we were very much at the same level of detail comprehension–not only in our real-world lives, but in our reading of the book itself.
And from Jezebel creator Anna Holmes' essay, which ensures that I'll not only re-read Harriet the Spy, but must own a copy with the old tomboyish image of Harriet on the cover (who knew Harriet might be based on Scout? Not me!):
In the end, of course, Harriet is both able to hold onto her sense of self ("I LOVE MYSELF' she writes in her notebook) while adding a new skill to her already formidable repertoire: empathy. And in doing so, she becomes not only one of the most well-rounded female characters in the book, but one of the most well-rounded females characters in children's literature–less interested in dance classes, attracting boys or playing bridge or mahjong than sating her own appetite for curiosity about the world around her. (36)
So, what did you think about Chapter 1 of Skurnick's book?
Are there any old-school heroines you think belong (Anne Shirley, Pippi Longstocking, Trixie Belden, someone else?)
Any new-school heroines you think would fit right in?
If you read one of the books, which one, what did you think?
Let me know in the comments (they take a bit to approve). If you wrote about it on your site, link back to that. Thanks for joining us here!