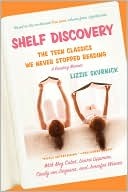 Welcome to week 2 of my summer reading project, the Summer of Shelf Discovery–reading a chapter of Lizzie Skurnick's reading memoir a week, along with a book she writes about in that chapter. (or a book that fits the theme from that time period, from this time period, from a genre, whatever.)
This week we're talking about Chapter 2 ,"She's at That Age: Girls on the Verge," about the whiplash of puberty.
The books from the chapter are:

Are You There, God? It's Me, Margaret by Judy Blume,
Blubber by Judy Blume,
Tiger Eyes by Judy Blume,
Then Again, Maybe I Won't by Judy Blume,
Sister of the Bride by Beverly Cleary,
The Cat Ate My Gymsuit by Paula Danziger,
The Long Secret by Louise Fitzhugh,
A Ring of Endless Light by Madeleine L'Engle,
And You Give Me a Pain, Elaine by Stella Pevsner,
Caroline by Willo Davis Roberts,
To Take a Dare by Paul Zindel and Crescent Dragonwagon
Are You There, God? It's Me, Margaret is the most famous of this bunch. I always thought of Then Again Maybe I Won't as the boy version of Margaret. Hers was about periods and breasts, his about erections and wet dreams. Of all the above books, these are the two that seem the most concerned with the actual nuts and bolts (so to speak, sorry, hard–oh, rats–difficult to avoid puns in this chapter, no?) of puberty. This is probably why they remain some of the most banned and most widely read books from this chapter.
(Or is this just me? Are other books from above more widely known, except maybe for the other Blume books, Blubber and Tiger Eyes?)
I re-read Are You There, God? (entry here) and read Beverly Cleary's Sister of the Bride for the first time (entry to come later this week). I think it's interesting that Margaret is most remembered for the period and bust stuff, but not for the religion, which is about half the book. Meg Cabot (author of The Princess Diaries, and guest writer on this book in Chapter 2) likes how it ends:
Judy Blume's books aren't "issue" driven, never offering readers a "message" or "lesson"; and they don't have pat, sugarcoated Hollywood endings to leave readers feeling satisfied.
I don't agree on either count. Blume's books _are_ largely issue driven, though she does a good job of making the book and characters about more than the issue–Are You There, God? is about girl puberty and religion; Then Again is about boy puberty and social class; Deenie is about scoliosis and parental pressure; Blubber is about bullying.
Also, the ending of Margaret didn't leave me satisfied. I felt like Margaret got her period, turned in her letter and bam, the book was over. Cabot commends the Blume characters because they "simply go on living. Just like the rest of us." Yet I felt that somewhere between the period and paper and the rest of her life would have been a nicer place to end, rather than living just to her first period and that paper.
I liked revisiting Are You There God?, and really liked reading Sister of the Bride, though it often had the feel of a 60's television screenplay; I could hear the actors chirping their lines in my head.
In addition to Cabot's take on the universality of Margaret, Jennifer Weiner (author of Good in Bed, In Her Shoes, and a lot of famous books) writes about Blubber, and Skurnick writes about all the others. Some of them I'd read, others I hadn't, but after reading the chapter itself, I find myself needing to re-read Blubber because of Weiner's fascinating take on it, and Deenie for Chapter 5 because I DO NOT remember Deenie having a "special spot" (though of course I remember her full name was Wilmadeen and she was named after Natalie Woods' character in Splendor in the Grass and both of them cut their hair off.)
What did you read of these books, or other books about girls (or boys) on the verge? What did you think of Skurnick's, Cabot's and Weiner's take on these books?
Other entries:
Summer of Shelf Discovery reading project

Shelf Discovery Week 1