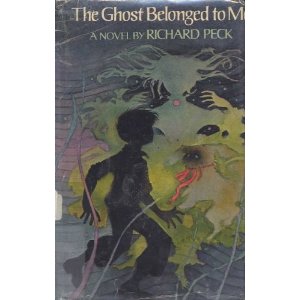 Cover of The Ghost Belonged to Me that I remember reading. (Good)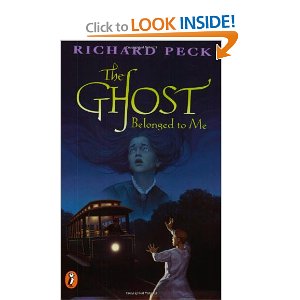 Modern cover of The Ghost Belonged to Me (Hate it)
This is the cover I wish I'd had: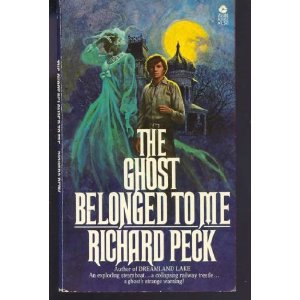 This summer many of you and I are re-reading books of my youth from the list in Lizzie Skurnick's reading memoir Shelf Discovery: The Teen Classics We Never Stopped Reading. Chapter 7 is "She Comes by It Supernaturally: Girls Who Are Gifted and Talented." Skurnick includes Richard Peck's Ghosts I Have Been, narrated by Blossom Culp, but I wanted to read the first book in the Blossom Culp group too, The Ghost Belonged to Me, which is narrated by Alexander Armsworth.
Starting in about 3rd grade, I remember becoming obsessed with ghosts and the supernatural, and began to devour books and television shows (In Search of!) about them. They scared me, but I loved them anyway. These two books were part of the canon for me back then, and a good beginning to my supernatural kick as opposed to some of the utter dreck that came later, e.g., The Amityville Horror.
Long before Peck won the Newbery Award for his children's book A Year Down Yonder (which is very good), he was a prolific writer of teen fiction. Looking back, I think Peck, along with Lois Duncan, may have been the author whose books I read the most. Certainly the ghost stories of both these books were some of my favorites. In The Ghost Belonged to Me, Alexander has to contend with a ghost on his property.
It all happened when I was no longer a child nor yet old enough to be anything else. I was getting long in the leg but was still short on experience. This is always a difficult age to sort out or live through. All I know for sure is that ever after the ghost, I was changed somewhat and possibly wiser.
In Ghosts I Have Been, Blossom comes into her second sight when she hits puberty, and her adventures take her a very long way.
There are girls in this town who pass their time up on their porches doing fancywork on embroidery hoops. You can also see them going about in surreys or on the back seats of autos with their mothers, paying calls in white gloves. They're all as alike as gingerbread figures in skirts. i was never one of them. My name is Blossom Culp, and I've always lived by my wits.
There's good stuff in both these about poverty and social class. Blossom is a smart, wryly funny narrator, though one who lets her little sorrows show through the chinks in her armor every so often.
Some covers. The current one (meh)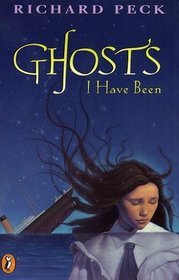 The one I read as a girl from the library and which depicts Blossom as she's described in the book:
Now I am not vain when it comes to looks. If I was, a trip to the mirror oulc cure me. My eyes are very nearly black, particularly if I am roused to anger or action. My hair needs more attention than I have time to give it. And my legs, being thin, do not show to good advantage, as being fourteen, I am still in short skirts.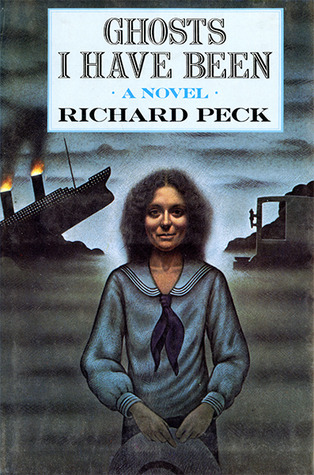 And the one I owned, which, while attractive, shows a far-too-pretty Blossom and is by Rowena, who did a bunch of Anne McCaffrey covers, which were also supernatural books I loved as a girl: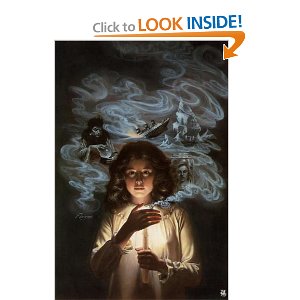 Blossom's story is largely about a ghost who drowned when the Titanic sank. Peck went on to write another story about Titanic passengers, this one a romance purportedly for adults, (there's a recent re-issue for the anniversary of the Titanic!) though I know I read it at a tender age, even with this tawdry cover: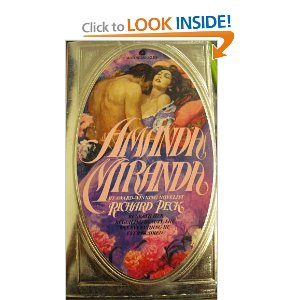 I read this book so many times the embarrassing cover fell off, at which point I threw it away. I wish I still had it. The guy on the cover, who is NOT in fact the main love interest in the book, has a similar back of the head to my husband.