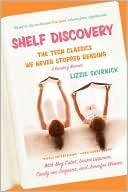 Welcome to the penultimate week of the Summer of Shelf Discovery readalong of Lizzie Skurnick's Shelf Discovery and some of the books in it. Week 9 is "Old-Fashioned Girls: They Wear Bonnets, Don't They?" and features these books:
An Old-Fashioned Girl by Louisa May Alcott
The Wolves of Willoughby Chase by Joan Aiken
The Secret Garden by Frances Hodgson Burnett
Cheaper by the Dozen and Belles on Their Toes by Frank B. Gilbreth, Jr. and Ernestine Gilbreth Carey
A Little Princess by Frances Hodgson Burnett
All of a Kind Family by Sidney Taylor
Laura Lippmann, best-selling mystery writer (and wife of The Wire and Treme writer David Simon), is the guest writer in this chapter on THREE books, The Wolves of Willoughby Chase, Cheaper by the Dozen and Belles on Their Toes.
We get her thoughts, and Skurnick's on what the continued draw of of old-school books like these? Skurnick jokes:
Of all the forms of fetish pornography running rampant in society today, the deepest and most invidious must be that found in all of the stories of young orphaned girls plunked down in splendorous circumstances who proceed to go about returning all the inhabitants thereof to a state of beruffled, wool-stockinged happiness….

One need only look to any Merchant-Ivory film, or, dog forbid, Harry Potter sequel, to see that English colonial porn is alive and well–as are its American offshoots. (342-3)
But I think the pull is even deeper than a craving for pretty, shiny things and happiness, and is captured in one of my favorite passages of all time, from Rebecca Goldstein's The Mind-Body Problem:
"But very deep down, below the realistic level, I think in Cinderella terms."

"Cinderella terms?"

"You know, Cinderella, wicked step-relatives, fairy godmother, Prince Charming. Deep down I believe–no, it's too deep down to be called belief. It's just reflexive. Deep down I reflex that because I'm such a good, hard-working girl, someday, on the night of the ball, the great transformation will take place."
Goldstein's character acknowledges how problematic that reflex is, but then realizes that she, too, buys into it:
"It's a lovely story." I smiled across the desk at my friend, who was smiling back at me, the intelligence lighting up the planes and angles of her face.

"The loveliest," she answered.
All of the chapters in Shelf Discovery focus on books that had one pull or another on female readers. I don't think it's a surprise that she left this chapter till almost last in respect of its power. (As well as in humorous contrast to the last chapter, about the naughty books. Heh.)
Some other books that came to mind: Jane Eyre. The Alcotts I read again and again were Eight Cousins and Rose in Bloom, which featured many of the same themes as An Old-Fashioned Girl. Anne of Green Gables and Understood Betsy would fit, here, too, I think. What else?
And what did you read for this week? Remember to comment, even if you didn't read this week. There will be a drawing at the end for a prize pack from Skurnick itself. Also, I'm getting slammed by spam, so I can't tell you how heartening it is to find real comments among the dreck!
Previous posts from the Summer of Shelf Discovery:
Chapter 6 "Girls Gone Wild: Runaways, Left Behinds and Ladies Living off the Fat of the Land"
Chapter 5 "You Heard It Here First: Very Afterschool Specials."
Chapter 4 "Read 'Em and Weep: Tearing up the Pages"
Chapter 3 "Danger Girls: I Know What You Did Last Summer (Reading)"
Chapter 2 "She's at That Age: Girls on the Verge"
Chapter 1 "Still Checked Out: YA Heroines We'll Never Return"
How To Read Along