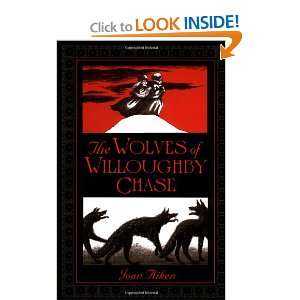 I read Joan Aiken's The Wolves of Willoughby Chase as part of my Summer of Shelf Discovery Readalong. It's one of the books from Chapter 9, "Old Fashioned Girls," of Lizzie Skurnick's reading memoir Shelf Discovery: The Teen Classics We Never Stopped Reading.
From Laura Lippmann's essay in Shelf Discovery:
Wolves has everything. A high-spirited rich girl (Bonnie Green), her virtuous poor relation (Sylvia Green), a tragic shipwreck, an evil governess, loyal retainers, an uncannily clever and gifted goose tender, a horrible boarding school–run by Mrs. Brisket no less, who rewards snitches with little pieces of cheese. And I'm not even going to tell you how the geese foil a dastardly crime. (354)
And Lippman's list doesn't even include big bad wolves, a big bad man, a kindly poor relation in a garret and a sympathetic adult. Wolves does indeed have lots crammed into its few pages, and its a rollicking read. I was reminded of Jane Eyre, Turn of the Screw, A Little Princess, and more. I'm sad I didn't encounter this one as a child, but happy that I've read it now. I look forward to passing it on to my boys, 6 and 9 years old.