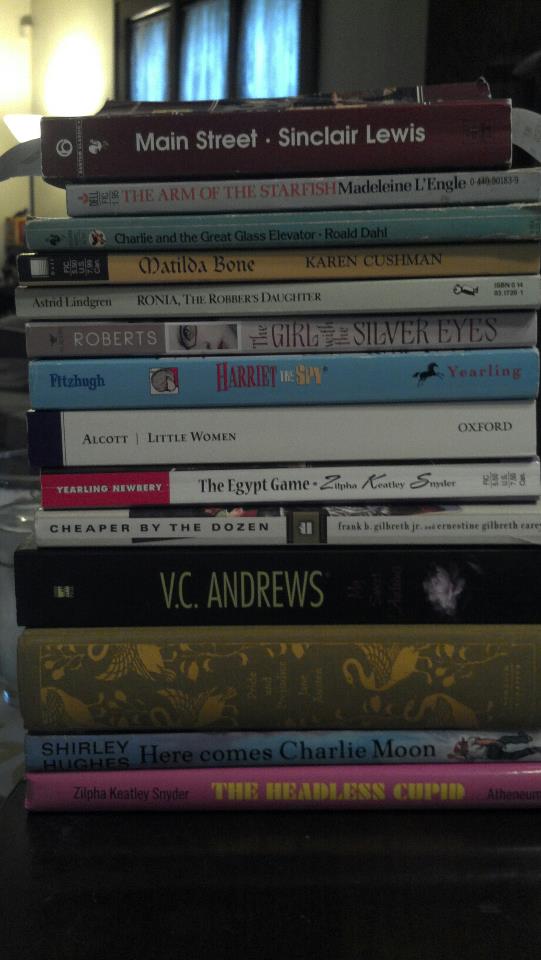 I can say with some confidence that the St. Paul Half Price Books on Ford Parkway, conveniently near Quixotic Coffee, has the best selection of used children's and young-adult books around and a generous clearance section. I can also say I probably did not need to bring home FOURTEEN new (used) books.
But, but, I didn't bring home even more, because I wanted even more, so that makes it better, right?
Um, yeah.
It is a problem because:
1. we don't have unlimited funds (but this stack only cost $43!)
2. We ran out of bookshelf space a long time ago and now have teetering stacks…
3. …of unread books, because there's no way I have time to read all I buy.
And yet, there is always a reason, which seems compelling at the time. I am a master of because reasoning. Herewith, the book stack and the becauses that are in addition to Drake being almost 9 and thus totally ready for many of these, right?
Main Street by Sinclair Lewis: for one of my book groups, only $1
Arm of the Starfish by Madeleine L'Engle: from Shelf Discovery, old-school MMPB
Charlie and the Great Glass Elevator by Roald Dahl: because nearly 9yo Drake just finished his dad's old copy of Charlie and the Chocolate Factory, unearthed from Grammy's basement.
Matilda Bone by Karen Cushman: Trina Schart Hyman cover (my favorite children's illustrator)
Ronia, the Robber's Daughter by Astrid Lindgren: Ditto above
The Girl with Silver Eyes by Willo Davis Roberts: From Shelf Discovery, plus got a lotta love in the SD Readalong
Harriet the Spy by Louise Fitzhugh: Ditto above
Little Women by Louisa May Alcott: I love Oxford editions
The Egypt Game by Zilpha Keatley Snyder: one of my favorites as a girl; want to revisit after reading Shelf Discovery
Cheaper by the Dozen by Frank Gilbreth Jr and Ernestine Gilbreth Carey: from Shelf Discovery
My Sweet Audrina by V.C. Andrews: From Shelf Discovery, a teen edition(?!)
Pride and Prejudice: I am slowly collecting all the Austen novels in these lovely Penguin editions.
Here Comes Charlie Moon: by English author Shirley Hughes, whom I fell in love with after discovering her Alfie picture books
The Headless Cupid by Zilpha Keatley Snyder: See The Egypt Game above.