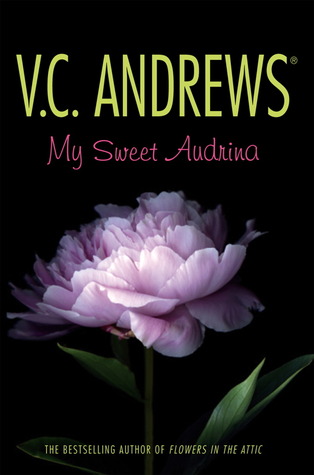 I re-read My Sweet Audrina by V.C. Andrews for the last chapter of the Shelf Discovery Readalong, Chapter 10: Panty Lines: I Can't Believe They Let Us Read This. I found a copy in the Teen section at Half-Price Books, and the edition is published by Simon Pulse, a teen imprint, so between my teenhood and now things have changed. The V.C. Andrews books have been uncovered for what they are: racy reads for pre-teens. And the book even has a picture of a pretty pink peony on the front, so it doesn't look dirty AT ALL. Not like the peekaboo cover and inside flap of the cover I read back when: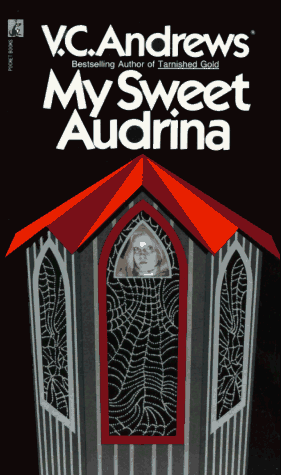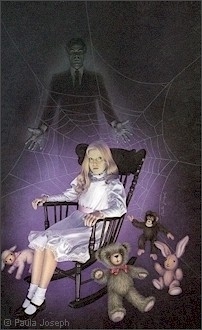 From the back cover:
Audrina Adare wanted to be as good as her sister. But she knew her father could not love her as he loved her sister. Her sister was so special, so perfect…and dead.

Now Audrina with come fact to face with the dangerous, terrifying secret that everyone knows. Everyone except…Audrina.
I am abashed to admit that I had a good time re-reading this gothic potboiler from my youth. Audrina is a pretty seven-year old who lives in a weird house with a weird family. The father and her cousin are particularly creepy. I fully remembered the "secret" and wondered if I guessed the ending when I read this as a girl about thirty (!) years ago. The writing is terrible, the secret hardly dangerous, and given the book's 400 pages, and its covering of thirteen year, I really think it could've been shorter to ramp up the tension. And yet, up till the end, I still enjoyed it, purple prose and all:
On shimmering hot waves of smoldering desire to do it all over again, out here in the storm when the world could end any second and no sin would matter, I drifted back to being me.
The end, though, when the "secret" is finally revealed and consequences sorta happen, was like having a nasty dessert to a tasty junk food meal. Or perhaps like the moment when you're eating junk food and everything's fine and then bam, a line is crossed and it can't be tasty again. Perhaps the ugliness and awkwardness of the ending put a spotlight on the garish over-the-top-ness of the book. The ending made the guilt over time spent overwhelm any fleeting pleasure. Eminently skippable. Unless you start it, then you might not be able to stop.
My friend Amy felt similarly about Flowers in the Attic.
I'm going to read something with some nutritive value, now.