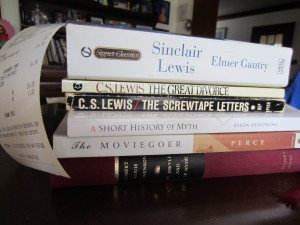 (Note how artfully I included the receipt.)
Thought 1: This is actually restraint for me. There are at least 3 books I put back on the shelf and didn't get today.
Thought 2: I am turning into my mother, buying books on religion and stacking them all over the house and not reading them.
Here's why I got these particular lovelies today:
Elmer Gantry by Sinclair Lewis: candidate for my group that reads books on myth and religion. Recommended by author Marlon James.
The Great Divorce and The Screwtape Letters by C.S. Lewis. Candidates for the book group, and ones I used to own and couldn't find when I went to look for recently. A scene in Peace Like a River reminded me of The Great Divorce, and I wanted to re-read it.

A Short History of Myth by Karen Armstrong. Also for the book group. Passed over Armstrong's Buddha for this, though one member has been lobbying hard for the latter. Think we'll read this alongside Ragnarok by A.S. Byatt.

The Moviegoer by Walker Percy. Also for the book group. (I've been nerdishly obsessing over what next year's books are going to be. Alas, most were ones I didn't already own.)

Dr. Jekyll and Mr. Hyde by Robert Louis Stevenson. On clearance for $2! Also, went to look for this after Stevenson's books were mentioned in Peace Like a River, and found I didn't own it.