Really, dear readers, I'm not sure why you put up with me. When I went to check how many photos I haven't posted and DVDs I haven't talked about, I was abashed. And what about all those clever vignettes and stories I meant to write about regularly? Yeah, not so much. Sigh.
On an upside, I've been on some nice bike rides lately, with and without the boys. In my recent post on milestones, I forgot to mention my bike milestones.
In June, I celebrated five years as a bicyclist! I got my first bicycle as an adult when my younger son was about one year old, and have been gradually riding more ever since.
In April, I'd been riding my current bike, Pepper, for a year. I traded in my adorable but unwieldy cruiser for a sleeker, simpler single speed, which I have now pimped out to my satisfaction (this photo isn't even current; I got a tan saddle to match the handlebar tape). I feel like it was after I got Pepper, once Guppy started full-day kindergarten, that I got serious as a cyclist, and worked up from five miles each way to round trips in the 20- and 30-mile range. Also, this past winter was so mild that whenever G. Grod put the bikes away in the basement, I found myself hauling Pepper back upstairs, in January, February, and March.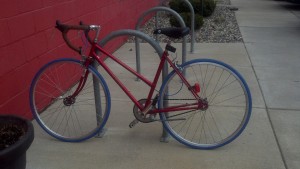 For upcoming posts, I've got a few more book stacks (went a little nuts over the holiday weekend at Half Price Books 20% off sales), and a slew of DVDs to catch up on. Good thing I've been reading a long book, Main Street by Sinclair Lewis, so at least I'm not behind in book reviews. My goodness, there were a lot of those this summer.
Now that both boys are back in school, Guppy in 1st, Drake in 3rd, I have all sorts of grand ideas about what I'll do with all my time: write more, bike more, volunteer, get a part-time job, etc. I'll wait to see what the gap between idealism and reality looks like this year.