20% off at Half Price books over the long Labor Day weekend, and I had a very satisfying time combing through their Highland Park store in St. Paul: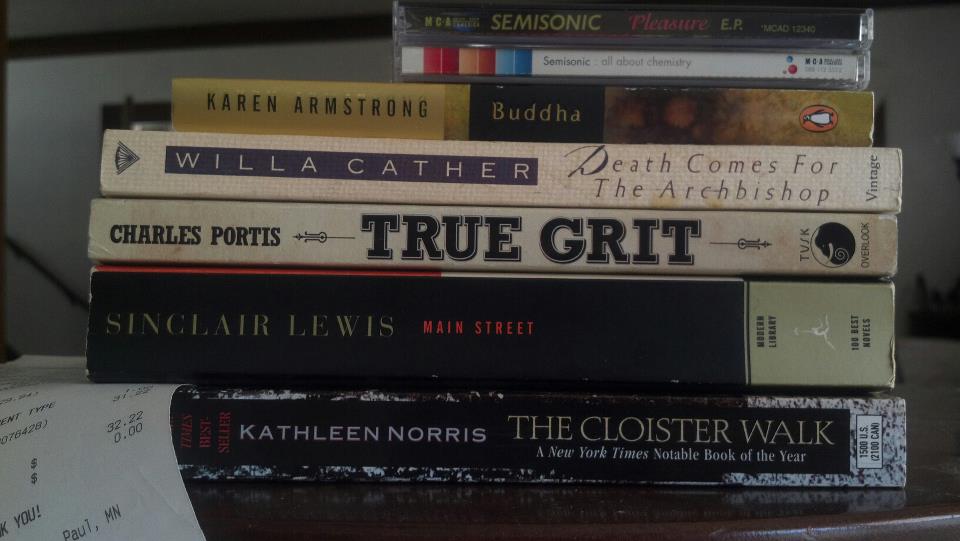 The goods, and the becauses:
Semisonic Pleasure and All About Chemistry: we just saw Semisonic at the MN state fair, and decided to address these gaps in our local music collection
Buddha by Karen Armstrong. Because some members of the book group I moderate want us to read this. And I'd passed it up twice.
Death Comes for the Archbishop by Willa Cather. A candidate for the same book group.
True Grit by Charles Portis. $2!
Main Street. Oh, what, you remember me getting this already, recently. Alas, the print in the MMPB was too small. I chose to get this Modern Library edition for my aging eyes.
The Cloister Walk by Kathleen Norris. A candidate for the above book group.
Not pictured: The Deptford Trilogy by Robertson Davies. For my husband, because The Biblioracle recommended it. Also, $2!