In my defense…oh, I'll just shut up now. I do not have time to read these books, I cannot afford them, and I don't have shelf space for them. Yet, I bought them anyway. Another possible epitaph for me.
Also, the blog is showing these pics in a fun-house format, and I have no idea how to fix it. I hope the books aren't self-conscious because they look fatter than they are in real life.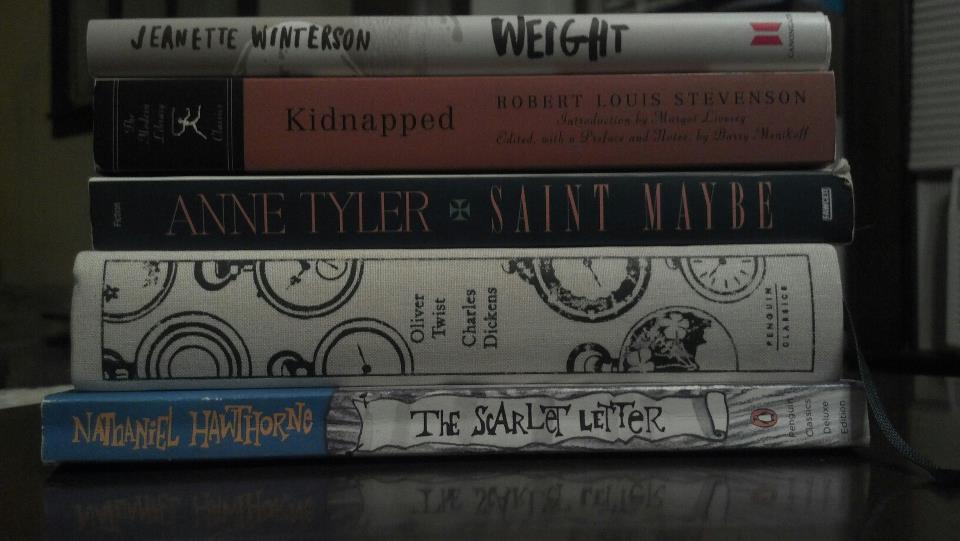 The titles, and becauses:
Weight by Jeannette Winterson. A candidate for the book group I moderate. And: $2! Part of the Canongate Myth series, along with Buddha and A Short History of Myth by Karen Armstrong.
Kidnapped by Robert Louis Stevenson. Because Stevenson was mentioned in Peace Like a River, and that's all the excuse I need.
Saint Maybe by Anne Tyler. A candidate for the book group. (I'm auditioning them, doncha know? Also known as: nerdishly obsessing and compulsively buying.)
Oliver Twist by Dickens. The Penguin cloth-bound cover!
The Scarlet Letter by Nathaniel Hawthorne. (Who was also mentioned in Peace Like a River, but this title wasn't.) The Ruben Toledo Cover!
G. Grod to me: You aren't actually going to read that again, are you?
Me: …
Him: You bought it for the cover, didn't you?
Me: …
But oh, can you blame me for buying these books (at half price plus 20% off) for THESE covers?