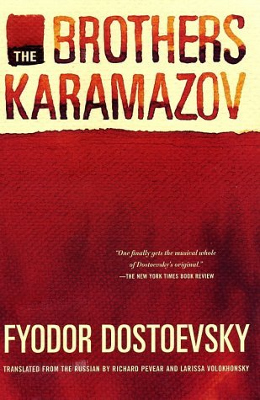 Nothing like flying by the seat of my pants, skin of my teeth, riding the ragged edge of disaster, la, la, la.
I'm reading Dostoevsky's The Brothers Karamazov for one of my three book groups this summer, and I'd love it if you'd join me! I will even blog regularly so we can "talk" about it every week. I'm using the Pevear/Volokhonsky translation, but I bet any one would do as long as it's divided into 13 books. Here's the schedule. START NOW!
This Sunday, June 2, 2013: complete book 1. I'll post to blog on Monday 6/3, and we can discuss in comments.
Sunday June 9, 2013, complete book 2. Discuss on Monday 6/10.
Sunday June 16, 2013 complete book 3. Discuss on Monday 6/17
Sunday June 23, complete book 4. Discuss on Monday 6/24
Sunday June 30 complete book 5. Discuss on Monday 7/1
Sunday July 7 complete book 6. Discuss Monday 7/8
Sunday July 14 complete book 7. Discuss Monday 7/15
Sunday July 21 complete book 8. Discuss Monday 7/22
Sunday July 28 complete book 9 Discuss Monday 7/29
Sunday August 4 complete book 10 Discuss Monday 8/5
Sunday August 11 complete book 11 Discuss Monday 8/12
Sunday August 18 complete book 12 Discuss Monday 8/19
Sunday August 25 complete book 13 and Introduction. Discuss Monday 8/26.
Books range from 20 pages long to 101, averaging 60. For this Sunday, it's a mere 33 pages in my edition.
See? Totally do-able.