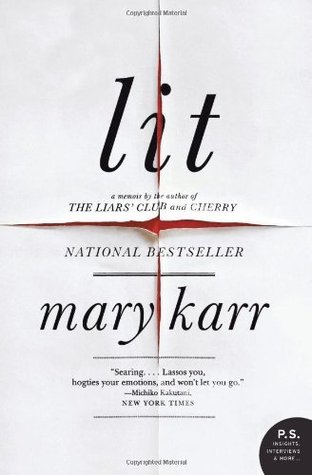 A friend of mine recently read an excerpt of something I'm working on. Her response was "Go read Lit by Mary Karr and then get to work." I'd been intending to read Lit for years (sound familiar? how often do I say this?) and had hesitated because while I liked and admired Karr's first memoir, Liar's Club, I hadn't read the second one, Cherry, and because I'm more than a little compulsive about these things, I didn't want to jump to #3. But when I found a copy of Lit at the bookstore and not Cherry, I decided to make the jump.
This book hit me like a ton of bricks. It's a continuation of Karr's history with her crazy family, but also of her first marriage, early motherhood, and how alcoholism soaked into all of that. It's also about her struggles to learn and write and earn her way into the things that seem to keep falling into her lap.
But I'm not ready to stop listening to the screwed-up inner voice that's been ordering me around for a lifetime. My head thinks it can kill me… and go on living without me.
Karr is a terrific chronicler of her life, and I especially appreciated her obvious attempts to play fair in describing a deteriorating marriage. I did feel sometimes her prose was a little too much, e.g. a "snail" of blood on the floor" stopped me and made me debate in my head the pros and cons of the usage, when I really always just wanted to keep reading and find out what happened. I was especially reading to get to the part where she becomes friends (and more) with poor, dead, David Foster Wallace.
I stopped drinking when I was relatively young–21. I'm fortunate to have avoided a lot of the wreckage that Karr details here. But I could relate to enough of it that it was a sobering reminder (not a pun, a deliberate double entendre, as is the title of the book: Lit for drunk, and for Literature) of why I stopped drinking, and why I still don't. Interesting to me is how many people, including those who knew me back when I was the drunk one, ask me whether I think I could start drinking again, and wonder why I don't.
This book. This is why I don't.