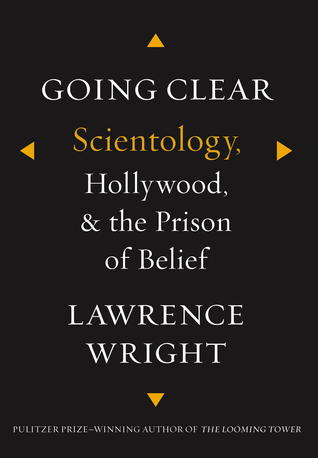 Lawrence Wright's Going Clear: Scientology, Hollywood, and the Prison of Belief began as a long article in The New Yorker, and was expanded to book form. Sometimes, this type of expansion works, e.g., Bradley Udall's The Lonely Polygamist, though I know some wouldn't agree with me on that. Sometimes it doesn't, as in Joshua Foer's Moonwalking with Einstein, which seemed stretched thin at book length.
Going Clear, though a densely formatted 372 pages with many endnotes and a lengthy bibliography, was a thumping good read I found hard to put down.
Starting with the biography of founder L. Ron Hubbard, Wright carefully relates details and background that make it possible to see how the magnetism and energy of a charismatic man was able to draw people in, first to Dianetics, and later to Scientology. Hubbard began his writing career, though, as a writer of science fiction for pulp magazines, and became skilled at creating a lot of content in a little time, which he did until the end of his life.
Science fiction invites the writer to grandly explore alternative worlds and pose questions about meaning and destiny.
One interesting question Wright poses is that if Hubbard didn't believe, and only wanted to make money, why would he continue to work until his death to shape the religion he'd begun?
An easy, facile way to read this book is to dismiss Hubbard and Scientologists as "crazy" and to marvel at some of the astonishing details and anecdotes.
But more interesting, I found, was to ruminate on legitimacy questions of new religions versus older ones, messiah and prophet figures, those who start religions and those to carry it on, and why Scientology has been so alternately demonized as a cult and embraced by followers. (I am reminded of the band Coldplay here, irreverently). Someone in the book comments at one point that the Scientologists seem like such decent people.
What made Wright's book an entertaining read for me was the history and anecdotes. He structures it around the difficult separation from Scientology of writer/director Paul Haggis. In this area, though, I think the book sometimes falters. Some of the anecdotes are told out of sequence, and some transitions are jarring. Plus, it's clear from the endnotes that so much of Haggis' and others' testimony is he said/she said. The people speaking against the church would be psychologically more likely to exaggerate negatives after departure in order to internally support a difficult decision.
I highly recommend the book as a way to learning more about a controversial subject. It's impressively detailed and researched, and makes me continue to think about who and why and when certain individuals would be drawn to Scientology, or psychiatry (which Scientology disputes), or any religion.