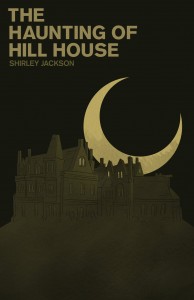 October's book for the book group I lead, Gods and Monsters was Shirley Jackson's classic psychological haunted house story, The Haunting of Hill House.
I read it last year for the first time, and liked it even more on re-reading. It actively terrified me at different points, and its main character, Eleanor, is now one of my favorites. Jackson makes me care for her deeply as she develops and reveals her over the course of the novel.
Written and set in the 50's, the book couldn't work today–witness the critically reviled 1999 movie remake The Haunting. Cell phones, any phone, really, would ruin it.
What I loved about the book is that it inspired terror in me, but wasn't graphically horrifying, as in the work of Stephen King (a huge fan of Jackson's), or The Shining Girls, which I recently read.
Like Henry James' classic Turn of the Screw, this is a psychological work, putting the interpretation in the mind of the reader. Is the house haunted by a ghost? Is it inherently evil?
I followed the re-reading with the well-reviewed 1963 film The Haunting directed by Robert Wise (West Side Story). It took interesting departures from the text including the re-routing of a love interest that didn't work well for me in the book but was a good interpretation of the work with excellent acting. It was a genuinely spooky movie, and fun to watch before Halloween this week.
Both book and 1963 move: HIGHLY RECOMMEND.