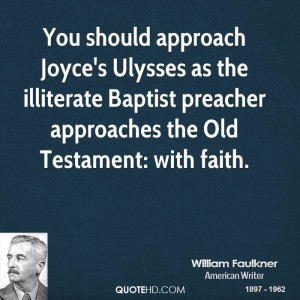 Whose idea was this Ulysses readalong? I don't think it was mine. I think somehow I just got swept up in someone else's idea, 'Yeah, let's read Ulysses, what a great idea!' and then made a schedule because I was avoiding something else, and told people about it, and got some friends interested, and now here I am, on the first date of the schedule, committed to writing something about Ulysses.
In the words of Anastasia Steele, she of the blockbuster weekend, Holy crap, people.
I started to read. Lo, and behold, what people told me was true: IT'S HARD!
I clutched my head and moaned. What did I sign up for? I'm no English major. I was a business major as an undergrad! Marketing, for heaven's sake. I'm in no way qualified for this. WHAT WAS I THINKING?
And then several kind people on Twitter assured me, in large friendly letters: DON'T PANIC. Just read. Appreciate the words. Don't fret about what you don't know. It will be legion. Don't get lost in annotations. Joyce meant it to be difficult. But he also meant it to be funny, and naughty, a riff on Homer's Odyssey, and on Hamlet as well. I just finished The Odyssey, and found it not just accessible, but a thumping good read as well. I know Hamlet. I CAN DO THIS!
I read the first two books, then skimmed the annotations so as not to drown in them, then waited a few days, and read the two books again. The language is beautiful, the allusions plentiful, and the humor bawdy. Here, there is treasure, if I can brave the dragons Joyce planted throughout this deliberately challenging, boundary-pushing work of art.
I'm unsure how best to post about the books as we read them. Summarizing them would be long, and has been done elsewhere. I found the summaries of the books at Schmoop to be decent and readable: Book one: Telemachus and Book Two: Nestor.
Instead I'll try super-short recaps, and what I noticed and appreciated. Let me know if this works, or or you want more, or less, by chiming in with comments. Comments don't appear immediately. I have to moderate them so we don't get slammed with spam.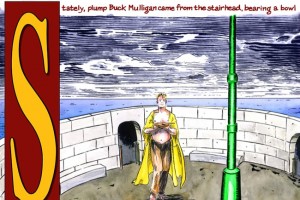 from http://ulyssesseen.com/
Book One, Telemachus. Just as The Odyssey starts off with Telemachus rather than Odysseus, Ulysses begins with Stephen Dedalus rather than Leopold Bloom. He's living in a tower with two men, Malachi "Buck" Mulligan, and Haines (which means 'hate' in French). It's not long before we get the famous 'stream of consciousness' for which Ulysses is known:
Stephen bent forward and peered at the mirror held out to him, cleft by a crooked crack, hair on end. As he and others see me. Who chose this face for me? This dogsbody to rid of vermin. It asks me too. (p. 6 Vintage 1990)
Book Two: Nestor. Stephen is off to work as a teacher. The headmaster, Mr. Deasy, is an anti-semite and know-it-all who thinks he has the solution to hoof-and-mouth disease. Deasy is unpleasant, yet the last sentence of the book is about him, and poetic and lovely:
On his wise shoulders through the checkerwork of leaves the sun flung spangles, dancing coins. (p. 36 Vintage 1990)
Who is reading along? Introduce yourself in the comments, or tweet along with the hashtag #TCUlysses. TC is for Twin Cities, where this discussion starts but I hope is not limited to.
What did everyone else think?
Schedule:
2/16/15 discuss and tweet sections 1, 2
2/23/15 discuss and tweet sections 3, 4
3/2/15 discuss and tweet sections 5, 6
3/9/15 discuss and tweet section 7
3/16/15 discuss and tweet section 8
3/23/15 discuss and tweet section 9
3/30/15 discuss and tweet section 10
4/6/15 discuss and tweet section 11
4/13/15 discuss and tweet section 12
4/20/15 discuss and tweet section 13
4/27/15 discuss and tweet section 14
(3 week break to read the very long section 15)
5/18/15 read, then discuss and tweet section 15
5/25/15 discuss and tweet section 16
(extra week to read the longer section 17)
6/8/15 read then discuss and tweet section 17
6/15/15 discuss and tweet section 18
6/16/15 Bloomsday!