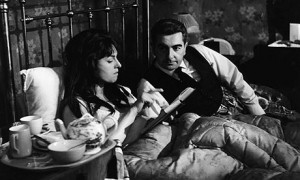 (image from the 1967 film, the re-release reviewed here)
Hello, fellow Ulysses readers. You still with me? I'm not sure I am still with me. I read books 3 and 4, pushing through, fighting sleep, feeling like I understood maybe one word in 100, and those were the ones about snot, boobs, ogling, and poop.
And yet, and yet, I will not give up.
I will edit and lengthen this entry once I do some more research, but for now, let's get this discussion started.
Chapter 3: Stephen walks on the beach, thinks a lot, and sees a dead dog, then leaves a booger on a rock.
Chapter 4: We meet our protagonist, Leopold Bloom, who is a man who likes his brekkie, and even better, takes care to make a good brekkie for Molly, who is still abed. He likes to eat organ meat, and is kinda pervey, as we learn when he follows a woman out of the butcher shop in order to ogle her. The chapter ends with him having a bowel movement.
Seriously. It is very clear why people give up on this novel. BUT I WILL PERSEVERE. There is lovely language, poetry, but if it doesn't mean anything, or doesn't mean anything to me, is it worth it?
Help me to understand, kind readers. What did everyone else think?
EDITED TO ADD: I have now skimmed the Gibbons annotations for 3 and 4, re-read the chapters, plus read the summaries and analyses (starting here) of them at schmoop.com. I feel guilty about the latter, as it seems like it's cheating, as it's a Cliffs Notes-y site, and yet, I enjoy their commentary and learn from it, so it floats my boat. Like Wikipedia, though, I take it with grains of salt–I have found some errors in it.
What I've learned about book 3: Proteus. Like the god it's named for, this is a slippery chapter, and Stephen's mind can't hold onto one thought for very long. For this entire book, he walks on a beach and thinks. He does not visit relatives, he just imagines what would happen if he did, and what they would say about him. He does not visit a man named Egan, he remembers spending time with him in London. In short, Stephen is brilliant, easily distracted, lonely, isolated, and up in his head.
My favorite line of poetic prose was
These heavy sands are language tide and wind have silted here.
I think this is iambic heptameter, with alternating stresses, which is why it was fun to repeat aloud. (I had a crap American education in English, it was really light on poetry.)
Book 4, Calypso, stars the hero, Leopold Bloom, who is Jewish and Irish and fears his Molly is having an affair. He's an earthy guy. The book starts:
Leopold Bloom ate with religh the inner organs of beasts and fowls.
Leopold is a funny guy. He talks to his cat, ogles the neighbor girl, worries about his daughter, and does not keep kosher, witness his pork kidney. Unlike Stephen, Leopod (or, Poldy), is whimsical and clever, but not intellectual, and attached to bodily, not theoretical things. The chapter ends with him having a bowel movement, and it was apparently this, not hot sex scenes, that were part of the outrage and accusation of obscenity when it was released. Also in this chapter, we get the first mention of a potato at 4.73 (57:2), which Gibbon's notes:
A talisman, symbolic of the continuity of life and, in Jewish tradition, a central dish in the ritual meal after a funeral. The potato is also a reminder of the staple food of the Irish peasant and of the potato blight that triggered the famine.
As in books 1 and 2, we continue to see themes of Irish independence, Dublin "street furniture" (or myriad details about Dublin at the time), and anti-semitism.
Book 3 threw me for a loop this week, but I feel back on solid ground again after the Bloom chapter. My approach of reading, skimming annotations, re-reading, and supplementing with summary and analysis feels like a good one, if time consuming. But then, no one ever said it would be a quick read.
Sorry for lateness of edited post. Hope this helps/entertains.