I read David Mitchell's latest, The Bone Clocks, for one of my books groups and for the Morning News Tournament of Books. I really enjoyed and was impressed by the other books of his I've read, Black Swan Green, Cloud Atlas, and The Thousand Autumns of Jacob de Zoet, so I was looking forward to it.
The beginning of the novel, featuring the narration of 15 year old Holly Sykes, drew me in immediately, and I was excited to be along for what felt like a wild ride.
Each segment was narrated by a different character as it moved forward in time. Also, for Mitchell fans, many of the characters from other books make appearances, some short, some long. The Vulture interview with Mitchell about the book contains a chart, which I enjoyed nerding out over.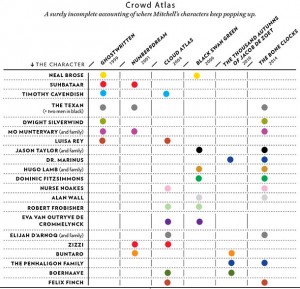 Alas, I felt it blew up in the penultimate section with over-the-top bizarrity that required way too much 'splaining. Then, exhausted from having made it through that section, I hoped for a relaxing denouement (say, the savasana to a difficult yoga class) and instead got a whole new section, whole new slew of characters, whole new world, with more 'splainin'. The last section could have been a book unto itself.
I felt very tired when I got to the end of the book, rather than satisfied. Still, glad I read it and I still intend to go back and read all his books. I love the universe he's crafting.