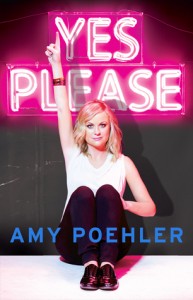 I listened to Yes Please by Amy Poehler via Audible.com, and I recommend listening to it. Not only does the charming and funny Poehler narrate, she has great guest stars like Patrick Stewart, Kathleen Turner as her dark side, her parents, and Seth Myers.
I was expecting a light, smart, funny book with bite like Tina Fey's Bossypants, and Mindy Kaling's Is Everyone Hanging Out Without Me? Yes Please is bigger than those, though, both in size and scope. It covers Poehler's life, from childhood outside Boston to the present, including her divorce from Will Arnett and the last season of Parks & Recreation, one of the best, sweetest shows I've ever had the pleasure to watch. (But start with either the gay penguins episode, or season 3; it took a while to get its groove.)
It's called Yes Please because it is the constant struggle and often the right answer. Can we figure out what we want, ask for it, and stop talking? Yes please. Is being vulnerable a power position? Yes please. Am I allowed to take up space? Yes please. Would you like to be left alone? Yes please. I love saying "yes" and I love saying "please." Saying "yes" doesn't mean I don't know how to say no, and saying "please" doesn't mean I am waiting for permission. "Yes please" sounds powerful and concise. It's a response and a request. It is not about being a good girl; it is about being a real woman. It's also a title I can tell my kids. I like when they say "Yes please" because most people are rude and nice manners are the secret keys to the universe.
What I didn't know about Poehler is how much she's done to train up young talent. Additionally, while I was expecting, and enjoyed, the SNL and celebrity anecdotes, I much more appreciated her honesty about things like the difficulty and sadness of divorce, and the frequent forays into empowered feminism in practice. That should not have been a surprise coming from one of the founders of Smart Girls and A Mighty Girl.
Some friends have commented they were disappointed that it wasn't as funny as Bossypants, but I really enjoyed it, and appreciated how much more it had to offer. My especial favorite was her metaphor for wanting an award: wanting the pudding, and her stories about learning to not want the pudding.
Poehler is an honest, funny person, and listening to the book was like spending time with a smart, funny friend.