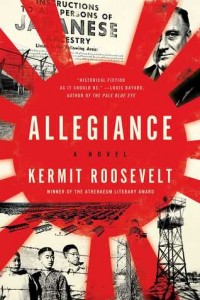 I received a free review copy of Kermit Roosevelt's Allegiance from his publisher, but would have sought out this book in any case. I enjoyed Roosevelt's first novel, In the Shadow of the Law, and was intrigued by the premise of Allegiance, when I read about it.
Allegiance begins just after the bombing of Pearl Harbor.
Everyone remembers where they were when they heard the news. I was in New York, the Beta house at Columbia, with constitutional law books on my desk and last night's drinks in my head.
Caswell "Cash" Harrison is just finishing law school, and feels the pull to enlist. His family and his girlfriend's family discourage him. He's drafted, but fails the physical, and instead is awarded a plum job as clerk to a Supreme Court justice in DC. But once in DC, he is in way over his Main-Line, privileged-white-guy head.
Cash is a noir-like protagonist, a good but rather slow guy being manipulated, but by whom? There are spies, tough guys, even a femme fatale of sorts. Just as he begins to suspect something's wrong in the courts, someone he knows is killed. He vows to figure out who did it, but is meanwhile hampered by his own naivete, friends who might be enemies, and overlapping mysteries. Who is manipulating the court cases about Japanese internment? Is there a conspiracy among the Supreme Court clerks? Are other cases about business or land being thrown? Who might be moving against FDR in his New Deal plans?
Roosevelt, a professor of law at the University of Pennsylvania in Philadelphia, has a convincing and engaging way of writing about the law. His book is ambitious, reflecting deep research on legal history and the cities of Philly and DC, while weaving in a series of complex historical mysteries. Having lived in both cities, I appreciated spending time in them during a different era, and Roosevelt's writing skillfully evoked both time and place. As I read, I wondered whether any of these were red herrings, or if they all tied together. They did, in complicated and interesting ways. I also appreciated the connections to modern discussion of race, immigration, and discrimination. Racism and fear and war continue to plague the United States, even as we think we've learned lessons from the past.
The vision and scope for Allegiance are impressive. While I found it didn't quite succeed completely–the pace sometimes lagged with certain mysteries being dropped while others moved to the fore, there were rather too many squash and tennis games for me, and Cash was sometimes frustratingly clueless–I both enjoyed and admired it overall. The enormous amount of historical detail and research that went into it, as well as the insight into past legal battles over race and discrimination, make this a timely, involving read.