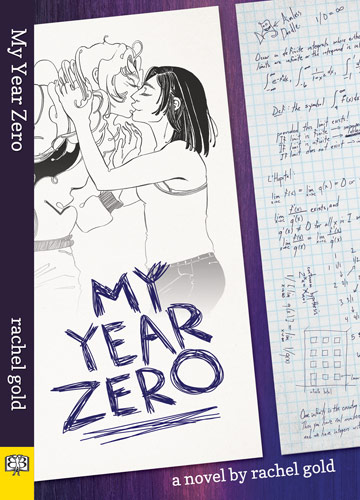 I was given an advance e-copy of Rachel Gold's teen romance My Year Zero in exchange for an honest review.
When I met Blake, I had no idea that she would destroy my life. She was this small person, darkly incandescent, vibrating with nervous energy. Eyes blue-gray like a kingfisher's wing (moving as fast). I should have known by the way she went on about infinities and zero. Who falls in love with zero?

But I'm ahead of myself. The story doesn't start with Blake. As with most great stories, it starts with sex. Excerpt From: Rachel Gold My Year Zero (advance review copy).
Lauren is a sixteen-year-old artist who lives in Duluth. More than just about anything, she wants a girlfriend, but candidates are pretty rare in northern Minnesota. Then she meets Sierra, a first-year student at the University of Minnesota. Sierra invites Lauren to the Twin Cities and introduces her to a group writing an online space opera. Lauren's a fan of manga and anime, so her storytelling abilities, both written and artistic, make her an immediate darling of the creative group.
As Lauren becomes more involved with the story group, her already difficult relationship with her lawyer father becomes further strained when she tries to assert herself and spend more time in the cities. Lauren and Sierra begin to date, but rather than the fairy-tale romance Lauren envisioned, the reality is emotionally neglectful and abusive. Lauren grows closer to Sierra's friend Blake, whose struggles with bipolar syndrome help Lauren see how her own emotional issues might be exacerbating things with her father and Sierra.
Lauren and the group of storytellers are a varied and interesting bunch, even when they behave immaturely and unlike-ably, which they all do–they're in their late teens, after all. The story they're spinning is a book-within-a-book, so really My Year Zero is two books in one.
Lauren is an appealing character. Her relationships with her father and Sierra are upsetting and all too believable. They make the book complicated and intriguing. There were many great details about the Twin Cities, though I wished for a bit more about Duluth and Lauren's life there outside of her relationship with her dad. The pace slowed a bit in the middle, but was strong toward the end. I enjoyed going on the journey with Lauren as she fell in and out of love, tried to figure out who she was, and tackled the challenges in her life rather than hiding from them.