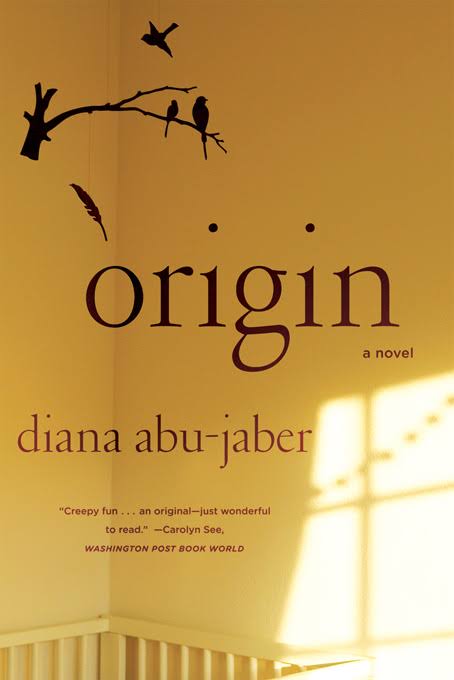 Let's talk about shelf-sitting books. Origin by Diana Abu-Jaber was one of my shelf sitters. I bought it at a book festival in October of 2011, having heard her speak on a panel with some other authors, whose books I also bought. Abu-Jaber's novel Birds of Paradise had just been released in hardcover. While she talked, she mentioned that a book group in Minnesota had recently read her previous novel, Origin and really liked it as a winter group read. I bought other books that day at the festival, ones that I purged in last year's Marie Kondo-inspired book clearing, because when I picked them up, I felt guilt, but when I picked up Origin, I still wanted to read it. That one small endorsement, about it being an atmospheric book for winter, had stuck with me.
I selected Origin for one of my book groups to read this month. I'm happy to report that I found it fabulous, I tore through it, I'm so glad I kept it around, sorry only that I didn't read it earlier, and I'm recommending it highly.
What I'm not happy to report is that my library system and the ones around it have just a tiny number of copies of it. I picked the book for the group before checking the library (rookie mistake). I'm sad because it appears that this book is a fading gem, one that got great reviews when it came out, but not the attention that other similar books have. Before I write about the book, then I'm going to say that if you're a fan of Kate Atkinson's Case Histories, or Ann Patchett's Sense of Wonder, Smilla's Sense of Snow, or other literary,psychological thrillers, I think you'll like Origin, too.
In Syracuse New York's winter, crime-lab tech Lena Dawson is approached by a grieving mother whose baby's death has been ruled as SIDS. The mother insists this is a mistake, and has contacted Lena because of rumors that Lena has special insight into children's cases. Lena is disturbed by the encounter, not only because it's emotionally jarring, but also because it shakes loose painfully vague memories Lena has of her own past.
The two mysteries–of the crib death and of Lena's past–unfold in gorgeous prose, stunning imagery, and great psychological layering. Lena struggles to navigate her work and relationships, and the clues are dropped like delicious breadcrumbs, which drew me quickly through the book.
In the end, one of the mysteries was less compelling than the other, but the sum of the book, its mysteries, its many shocking reveals, the satisfying "click" as pieces fall into place, all make it one of my favorite reads in recent memory. I loved it, and can't wait to talk about it with my book group.