I tried to convince 5yo Guppy and 7yo Drake to go on a bike ride last night. They wanted to watch Phineas and Ferb, so I took my bike out on my own, and went 9.9 miles, if Google is to be believed.
A few weeks ago I traded in my big unwieldy though cute cruiser for a zippier rebuilt Schwinn single speed. It was a lovely early evening, sunny and not too cool. I saw a heart-shaped puddle on the trail: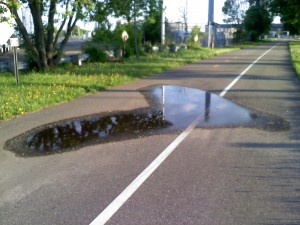 I'd never listen to a music player while biking, because I wouldn't feel safe. But my mental playlist popped up Perfect Day by Iggy Pop, Just a Ride by Jem, and Ramblin Man by the Allman Brothers. I have a funny subconscious.