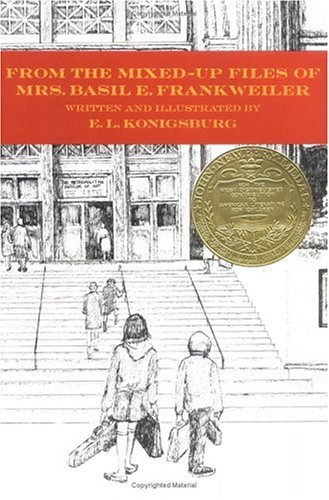 In the ponderously but perfectly titled From the Mixed-Up Files of Mrs. Basil E. Frankweiler, Claudia Kincaid, twelve, of Greenwich, CT is going to run away. She's planning carefully, spurred consciously by injustice, but perhaps unconsciously by boredom:
The fact that her allowance was so small that it took her more than three weeks of skipping hot fudge sundaes to save enough for train fare was another example of injustice…Since she intended to return home after everyone had learned a lesson in Claudia appreciation, she had to save money for her return trip, too. (6-7)
Claudia, with her high standards, grammatical correctness, and desire to spend on the good things in life is a girl after my own heart. Good thing she takes along her penny-pinching little brother Jamie, as both bankroller and accountant. They run away to some place famous, have adventures, and get ensnared in a mystery in this funny, sweet, engaging book.
I'm not sure _I_ appreciated Claudia enough when I was a girl. I remember reading this book, and liking it. But this is a book worthy of love. I think Lizzie Skurnick gets to the nut of it in Shelf Discovery when she writes this:
in our post-irony age, Claudia's experience is also a wonderful reminder of how children, though they may be precocious, certainly aren't born knowing everything; and that when they do learn about life, it's not always something awful they discover. (25)
There's a wonderful lack of awful-ness in this book that made it a joy to read.