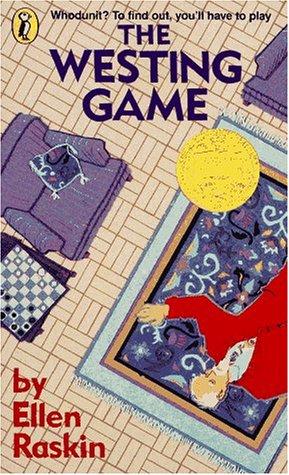 I'm not sure when I first read Ellen Raskin's The Westing Game (before it won the Newbery Medal?), but I do know it was in the regular re-reading rotation for years. I've never learned to play chess, one of the central metaphors of the book. (My husband has tried to teach me several times, and my 6yo once, but it never sticks.) But it still was not necessary for me to enjoy this book, which I did yet again, as a selection from Chapter 3: "Danger Girls," of Lizzie Skurnick's reading memoir, Shelf Discovery, which a bunch of us are reading this summer (or reading along with) here at Girl Detective.
I smiled when I re-encountered Turtle Wexler, she of the flying braid and shin kicks. I was a shin kicker myself, back in 3rd and 4th grade, so I empathized with Turtle's method of anger management, or lack thereof. I wonder if I was as horrified, as a child, by the flagrant disregard her mother had for her, as I was on this read. All of the adults in the book are interestingly flawed and damaged, but Grace's active neglect of Turtle and overt favoritism to her elder knocked the air out of me. This did make it all the easier to cheer for her as she and the other fifteen heirs are challenged to discover who killed Sam Westing. The characters are given clues and partners, but the author gives the reader clues as well. We know when the characters are lying or telling the truth, and we also know, because we're told up front, that one of them is a bookie, one a bomber, one a thief and one a mistake. I remembered who the bomber was, but not the thief or the mistake. Those were joys to re-discover on this reading.
It's a marvelous puzzle, and I didn't figure out the ending the first time I read it. Even though I remember "the solution" it's such a joy to travel the path to get to it that I never mind.
A few things stuck out to me on this read, though, in addition to the astonishing neglect and favoritism of Turtle's mom:
1. Mr. Hoo is a real jerk.
2. Many, perhaps most, of the characters are hastily sketched, as it's a short book in which plot takes precedence.
3. Raskin chose to draw out the endings for all our characters, which reminds me of how the Harry Potter series ends. What happened to the characters wasn't left to the readers' imaginations. I like the fates she gave them, but I think leaving endings more oblique gives more credit to the reader.
Still, a thumping good read, and one I will encourage my boys to dive into.