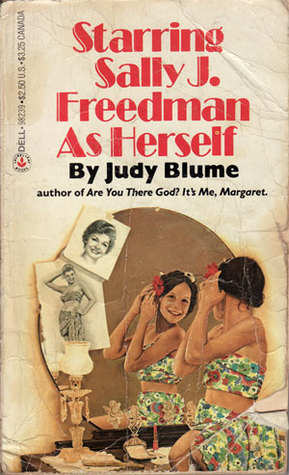 I skipped back to a book from Chapter 1 of Lizzie Skurnick's reading memoir Shelf Discovery, on memorable heroines, to re-read Judy Blume's Starring Sally J. Freedman as Herself. In Week 1 of the Summer Shelf Discovery reading bender, several readers had commented on how enjoyable it was, and one reader noted a Blume character pattern of difficult mom/nice dad, which I can confirm in this book.
Sally is, indeed, a terrific heroine, with her imaginative stories, her incessant curiosity (asking her parents exactly WHAT kind of disease she could catch in a bath house) and using words and phrases she doesn't know, like 'bordello' and 'love and other indoor sports'. In post-WWII New Jersey, Sally's dentist father rents the family a place in Florida. Sally's older brother has been sick, so the rest of the family moves south for the winter: Sally, her mother, brother and grandmother nicknamed Ma Fanny. Sally has to adjust to a new school, new friends, and frenemies, who often inhabit Blume novels. She copes by telling herself stories, one of which is how a strange neighbor, Mr. Zavodsky, is really Hitler in disguise. ,
The book is often laugh-out-loud funny, and is entertaining in the lack of OVERT THEME other Blume books have. (Margaret: periods and religion; Blubber: bullies and friendship; Deenie: scoliosis; etc.) Set in the 1940's, it's supposed to be Blume's most autobiographical book. Of the ones I've re-read on my summer reading bender, this is the Blume I've enjoyed best by far, perhaps because it's about a complex, engaging character rather than a less-interesting every-kid dealing with a particular issue.