Or: Nerdishly Obsessing over Bicycling Backpacks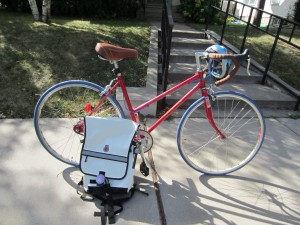 My husband and I both love bags. We have scads of them. The thing about bags, as with bikes and so many other things, is that you don't know what works and what doesn't till you've been living with something for a while.
For some time now, I've been muddling along with my husband's old broke-ass gigantic backpack. It was too big, missing a lining, black on the inside, and with a rolltop that I nearly always have to undo and redo because I've forgotten to put in or take out something. In other words, completely unacceptable.
Now that fall is here, I'm making longer jaunts on my bike as the boys are back in school. I felt a growing resolve for a new bag. And so my quest began, which ended with my purchase of a Banjo Brothers Metro Bag. Here's how I came to that decision.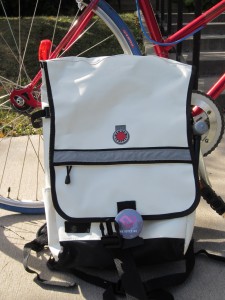 I wanted a flap closure, not a rolltop. The latter is better for absolute water proofing, which isn't such an issue for me, since I'm mostly a fair-weather biker. Since I often forget to put things in and take things out of my bag, easy access is more important to me. Rolltops also tend to ride higher above the shoulders, so they can lessen visibility. Choosing flap rather than rolltop ruled out Trash bags, most Beard bags, Seal Lines, and the handsome Chrome Orlov.
I knew from the black pack I'd been using that a dark interior doesn't work for me. I needed a light-colored interior to better see what's inside. Bags with dark interiors I ruled out were Bailey Works (such great color choices!) and Mission Workshop.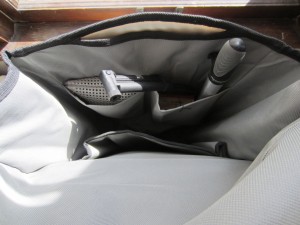 I also needed two side pockets. I like to carry my U-lock in my bag, for less rattly bang when I'm riding, and I don't have a water bottle holder on my bike, so I like a 2nd pocket for the bottle and to stash my keys in. This ruled out the Beard Loiterer, as well as Chrome and Mission Workshop bags. The Timbuk2 Swig had only one pocket.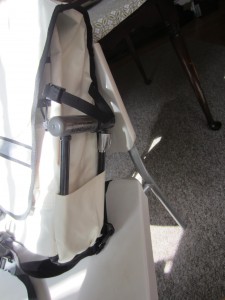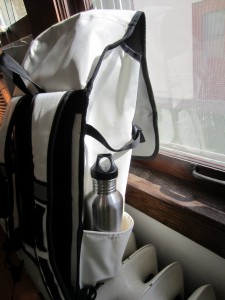 I also need a bunch of interior pockets for littler stuff like pens, wallet, book, etc: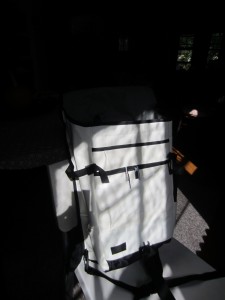 I'd tried using conventional backpacks without a chest strap, but they made my shoulders ache. The Banjo Brothers Metro has both a chest strap and one at the bottom for even more support.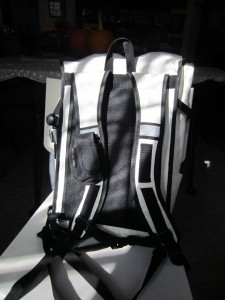 At the end of my search, I found one bag that had everything I wanted, and then some. The Banjo Brothers Metro in White had a light interior, double side pockets (though I wish they were a bit more deep), and a flap top. It was neither too big nor too small. The phone carrier on the strap, where I like it to be, is included, not an extra purchase. The interior has good organizational pockets. Bonuses: Banjo Brothers is a Twin Cities company, so local to me, and the bag was $74.99, significantly less than many of the other bags I looked at.
I'll have to live with it for a while to see how it works out. Already I've noticed it rides higher on my shoulders than I'd like even though it's not a rolltop. But everything else so far is good. I'm glad I waited a while to see what I wanted in a bag, rather than rushing into a relationship before I was ready.