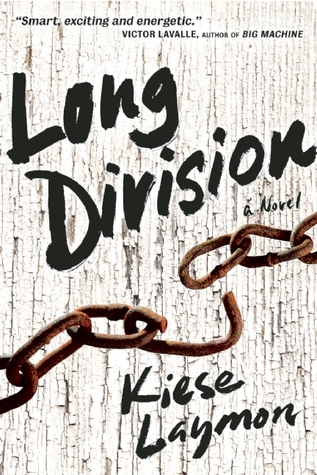 Long Division is one of the books in this year's Tournament of Books, and is EXACTLY why I get so geekily involved in the ToB every year. I would probably never have heard of or picked up this book on my own, but am darn glad I did.
I found it hard to follow at first: a 9th grader named Citoyen, "City", competes in a contest called "Use it in a Sentence" then discovers a book called Long Division, which is set in 1985 and features a main character named dot dot dot City.
My name is City. I'm not white, homeless, or homosexual, but if I'm going to keep it one hundred, I guess you should also know that LaVander Peeler smells so good that sometimes you can't help but wonder if a small beast farted in your mouth when you're too close to him.
The book goes back and forth between the "real" world and the fictional, and jumps back in time, from 2013 to 1985 to 1964. There's time travel, Klansmen, and a lot of sharp commentary on race. It's smart, fast, funny, and provocative, though it did feel at times as if the bat$hit crazy narrative got a little away from the author. But, a wild ride that reminded me of two of my favorite things of the past few years: Victor LaValle's Big Machine, Safety Not Guaranteed, and Frank Portman's King Dork.