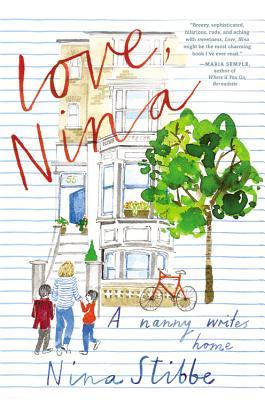 Love, Nina: A Nanny Writes Home by Nina Stibbe is yet another recommendation from my husband via Caitlin Moran, whom he follows on Twitter (@caitlinmoran). He kept laughing aloud as he read Love, Nina, which was recommendation enough in itself. Then he thoroughly qualified it, saying I should only read it if I wanted to, it was good, but not Cloud Atlas or anything.

Love, Nina is a series of letters written by the author to her sister in Leicestershire. At twenty, Nina moved to London to be nanny for two clever, opinionated boys. They're sons of a famous film director and the director of the London Review of Books. Nina's letters feature walk-ons from some of London's creative intelligentsia, observed through Nina's her critical eye.
Nothing much happens, and I can see why some readers might be bored with it, but I found Nina's letters and details of ordinary family life in a creative family both charming and fascinating.
Everyone keeps saying how great yoga is and that we should all go and learn to relax and let go of things that are thwarting us in life (i.e. turkey mince) and breathe properly and stretch and so on…

I'll think about going (to yoga). But 'm not sure I want to be that relaxed. I am who I am and I might not do so well as a relaxed person. (86)
It helped that Nina doesn't gloss over her own shortcomings as a bad cook, a lazy housekeeper, and a teller of fibs to cover her butt, as when she "pranged" the car, or "nicked" a particular towel.
In between the lines we get glimpses of her sister's life, hilarious as when the neighbor showers outdoors, but also Nina's own self doubts as she applies to university, begins classes and moves on from being the official nanny and becomes one of the revolving guests at what she calls simply, "55."
The book reminded me of Helene Hanff's 84 Charing Cross Road. I'm an anglophile, a book geek, and I like letters, so this was definitely my cuppa. If you're looking for a plot, or a kinder narrator who doesn't curse so much, this might not work for you.