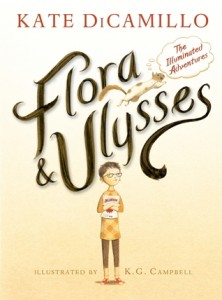 And because I don't have enough book groups, HA!, I am going to another one tonight with my elder, 11yo Drake to discuss Flora and Ulysses by Kate DiCamillo.
(Let's see: Books and Bars, my women's book group, Gods & Monsters, Beer and Comics, Book Scouts (a twitter group, we'll be reading Ulysses and Infinite Jest next year), Sandman readalong that starts next month and this new one, which is parent/child. Yep, 7 reading groups. INSANE.)
Flora and Ulysses is Kate DiCamillo's the author's second Newbery Award winning book; the first was The Tale of Despereaux. The subtitle is "The Illuminated Adventures" and points to the nostalgic, timeless era the book is set in. It's a mix of chapters, illustrations, and comic-book storytelling. A squirrel encounters a voracious all-terrain vacuum cleaner, and is unexpectedly changed. Flora, who loves comic books, names the squirrel Ulysses and hopes he will fight villains. Instead, the squirrel's superpowers are less showy: he writes poetry. Oh, all right, he can also fly.
Flora is a self-proclaimed cynic but Ulysses' transformation begins to turn that around. She is a fan of a fictional comic book Incandesto!, and often quotes from it:
Holy unanticipated occurrences!
which is a lovely call back to Golden Age comics. In many ways, this reminded me of a middle-grade version of Michael Chabon's love letter to that era, The Amazing Adventures of Kavalier and Clay.
Flora and Ulysses often made me laugh, but like Kate's other books, it is also consistently sad. Flora's parents are divorced, her mother is a romance writer who discourages Flora from reading comic books, her father is lonely, sad, and socially inept, a boy she meets is temporarily blind and has been banished from his home, Flora's mother wants to literally kill Ulysses.
There are many reviews on Good Reads that complain about these aspects of the book, that they're negative, not realistic, don't send the right message, or aren't clear enough in their story.
DiCamillo's books for older readers have always contained sad truths about the relationship between children and adults. She is open in her author talks about how she includes this in her books so as not to pretend to children that ugliness and difficulty don't exist.
What I appreciated about Flora and Ulysses, in addition to how it made me laugh, was how it was about difficult ideas, like how villains aren't as obvious as they are in real life, how people we love can act villainous sometimes, and what a risk it is to love others. The book contains difficult ideas that are true, but also wondrous and lovely things that are true, all wrapped in a story with clever phrases and repetition to remind the reader that we're in a story, not real life. There is a mythic, fairy-tale element to the story that I think the people who criticize it for not being realistic are, perhaps, missing.