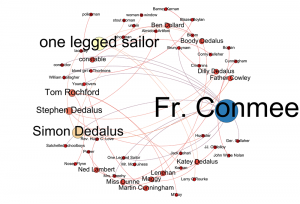 Image from Amanda Visconti's site Literature Geek. Amanda is also the curator of Infinite Ulysses, which you should check out if you haven't yet.
Welcome to this week's edition of the Twin Cities Ulysses readalong, book 10: The Wandering Rocks.
EDITED TO ADD: I continue to find the reading process that works best for me is to read the chapter in one fell swoop, read Gifford's notes, read the Schmoop summary and analysis, and then re-read. That makes for a lengthy process though, so I'll add later thoughts and notes at the beginning of each post.
One thing I missed the first time that Gifford pointed out were the references to Bleak House by Dickens, which I read in a group a few winters ago. First, there's the description of the professor of dancing:
Mr Denis J. Maginni, professor of dancing, &c., in silk hat, slate frockcoat with silk facings, white kerchief tie, tight lavender trousers, canary gloves and pointed patent boots, walking with grave deportment most respectfully took the curbstone as he passed lady Maxwell at the corner of Dignam's Court. (220 Vintage)
This is a nod to the elder Mr. Turveydrop, the dancing teacher who is known for his deportment in Bleak House.
Later are allusions to the court system and to Miss Flite:
Lawyers of the past, haughty, pleading, beheld pass from the consolidated taxing office to Nisi Prius court Richie Goulding carrying the costbag of Goulding, Collis and Ward and heard rustling from the admiralty division of king's bench to the court of appeal an elderly female with false teeth smiling incredulously and a black silk skirt of great amplitude. (232 Vintage)
And later:
An elderly female, no more young, left the building of the courts of chancery, king's bench, exchequer and common pleas, having heard in the lord chancellor's court the case in lunacy of Potterton… (Vintage 236)
And my favorite sentence of the section was this:
…and when we sallied forth it was blue o'clock the morning after the night before. (Vintage 234)
END of ADDITION
Initially this post will be brief. I have only read chapter 10 once, not yet notes, analysis, or re-read it, all of which I plan to do.
In book 10, the stream of consciousness jumps from character to connected character. I found this segment much more accessible than last week's Book 9 (the post for which I have embiggened after re-reading 9 and appreciating it more). I also really loved getting to hear different character's voices, and getting the Rashomon-like perspectives of the same scene from different views.
Because I couldn't recall the Wandering Rocks episode from The Odyssey, I checked at Schmoop and found out there was a good reason:
It's interesting to note that there isn't actually a "Wandering Rocks" episode in the Odyssey. Circe warns Odysseus that no man has ever passed through the rocks alive and thus advises him to pass between Scylla and Charybdis. It's almost as if Joyce, in his creative ebullience, refuses to take Circe's advice.
My favorite line this week eludes me but I did like this even though I'm not a gin person:
Hot spirit of juniper juice warmed his vitals and his breath. Good drop of gin, that was. His frocktails winked in bright sunshine to his fat strut.
But, the following made me hungry and I might well make scones today:
Two melanges [a mixture of fruit in cream], Buck Mulligan said. And bring us some scones and butter and some cakes as well.
then:
He sank two lumps of sugar deftly longwise through the whipped cream. Buck Mulligan slit a steaming scone in two and plastered butter over its smoking pith. He bit off a soft piece hungrily…[Haines] tasted a spoonful from the creamy cone of his cup.
That's all I've got thus far. As seems to be my MO, I will embiggen this post once I've done my due diligence for the book. But, in the meantime, what did everyone else think?
Add your thoughts in the comments, or come tweet them on Twitter with the hashtag #TCUlysses.
Join us next week on 4/6/15 for Book 11:Sirens. The schedule for the rest:
4/13/15 discuss and tweet section 12
4/20/15 discuss and tweet section 13
4/27/15 discuss and tweet section 14
(3 weeks to read the very long section 15 which we'll spit into three chunks)
5/18/15 read, then discuss and tweet section 15
5/25/15 discuss and tweet section 16
(extra week to read the longer section 17)
6/8/15 read then discuss and tweet section 17
6/15/15 discuss and tweet section 18
6/16/15 Bloomsday!
Past posts:
Ulysses readalong week 1, books 1 and 2
Ulysses readalong week 2, books 3 and 4
Ulysses readalong week 3, books 5 and 6
Ulysses readalong week 4: book 7
Ulysses readalong week 5: book 8

Ulysses readalong week 6: book 9