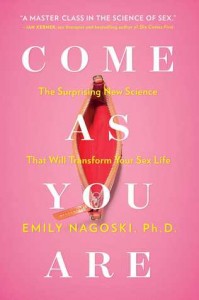 I will be very clear. I think everyone should read Come as You Are: The Surprising New Science that Will Transform Your Sex Life by Emily Nagoski. This is a great book about female sexuality, and even if you have a good sex life, this book can and probably will make it better. It did for me.
The subtitle makes me abashed to admit reading this, because things were good in that department of the marriage. BUT, now they're even better.
This book is a myth-busting extravaganza about all the dumb, wrong things we think about human sexuality, especially women's sexuality. As Nagoski emphasizes, we all have the same parts, just differently organized. This book is like talking to a super smart funny friend who knows all about sex. I thought I knew about sex. Then I read this book and was embarrassed to find out all the things I thought that were wrong, or that I just hadn't considered before.
I found out about it because my husband G. Grod read about it online. He read it first, then said I should. I started it, then went out and bought it, both so I could have our own copy (there are worksheets inside) and so the next person in the library queue could get it faster.