I made three birthday cakes this month. One for 5yo Guppy: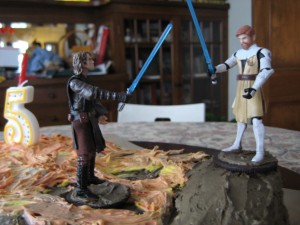 It is Obi Wan and Anakin battling on the planet Mustafar. I have not seen the movie this scene is from, but I know the relevant details, as it's the kind of thing one learns as the wife of a geek and the mother of sons. The cake is one yellow round and one chocolate round, as 7yo Drake likes yellow cake and 5yo Guppy likes chocolate. I used recipes from Cook's Country, and found them dry.
For my husband G. Grod, I made Cook's Illustrated's Chocolate Mousse Cake. (I'd link to their website, but it always freezes my browser, and thus annoys me. I will not reward them for that.) Very good, but the recipe is fussy, with whipped egg whites, a bain marie and hours to cool then hours to chill. I never managed to restrain myself from eating long enough to take a pic of the finished cake, but here were some steps: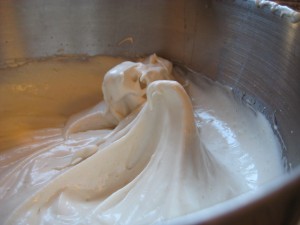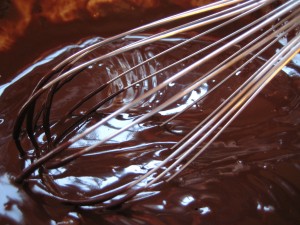 For my birthday, I thought about buying a cake, but decided finally to make the Brown Eyed Susan Cake, which I'd coveted since I'd seen it in a 2005 copy of Cook's Country.
Here was the magazine photo: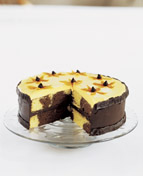 Here is my version: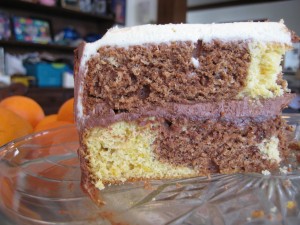 For me, making it took all day, the chocolate marble and frostings were much lighter than the magazine pictures, and the cake itself was dry. With vanilla ice cream, it was quite good, but in retrospect not worth spending my entire birth day making. Memo to future self: buy a cake. As for the dryness of the cakes, I was using unbleached cake flour. That might have been a factor, so before I toss those recipes, I'll try using regular cake flour.