Monday, May 12th, 2014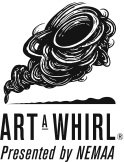 Did you know Northeast Minneapolis' Art-a-Whirl is the biggest artist open-studio event in the US? And it's this upcoming weekend, from Friday May 16 to Sunday May 18. Over the years, I've learned a few things about Whirling with little ones, which I wrote about for Minnesota Monthly's TC Taste blog here. But it's a good set of links even if you don't have little ones. And even if you don't live in the Twin Cities, you can check out the art online.
And, please do. Because in writing that post, I put all the links in my draft, and they didn't copy over to the final, so I had to enter them all again. Which was a giant pain. So go, read, and click the links, to justify all that hard, hard work, if you would, kind readers!