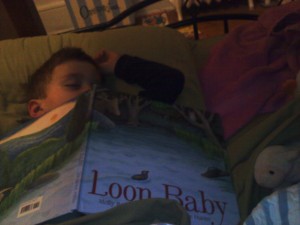 My younger son, 5yo Guppy, has recently become enamored of baby loons. He saw a picture of a baby taking a ride on its mama's back in a book and hasn't stopped talking about them since. So when I saw Loon Baby, written by Molly Beth Griffin and illustrated by Anne Hunter, on display at Magers & Quinn, I showed it to him and asked if he'd like me to get it for him. I had trouble prying it away from him so the bookseller could ring it up. We read it at bedtime, and he took it to bed with him. You can see the result, above.

Loon Baby is a sweet story about a mother loon and her baby out on the lake. The mother goes for food, but the baby is too small to dive, so can't go with her. When she is gone a long time, he worries, then becomes lost. Only when he begins to cry is his mother able to find him and they return home to their warm nest on the lake.
I'm a Minnesotan now, so the setting of a north woods lake fills me with longing for a trip to the shore. The text doesn't rhyme, but has distinct rhythms that make it a pleasure to read aloud.
Loon Baby waited
and floated
and paddled in circles.
The breeze ruffled his fluff.
The art, a combination of watercolors and ink, is beautifully colored and crosshatched for texture. The baby loon is nothing short of adorable. Or, as Guppy says, "CUUUUUTE!"
It does, however, bear more than passing similarities to other missing-mother-bird stories, especially Come Along, Daisy and Owl Babies, two long-time favorites in our family. The family bookshelf has more than enough room for ones as charmingly told and illustrated as Loon Baby. But could we have a move away from the absent-mother-and-worried/lost-child motif, please?