Or, what I did instead of writing and napping.
Shopped at Barnes & Noble Galleria (but didn't buy anything.)
Shopped at Half Price Books in St. Louis Park (um, did buy some stuff; book stack photo to come)
Lunch of mushroom stroganoff with tofu drizzled with Sriracha sauce at Noodles and Co.
Double of Clusterfluff (Peanut Butter Ice Cream with Caramel Cluster Pieces, Peanut Butter & Marshmallow Swirls) and Chocolate Therapy (Chocolate ice cream with chocolate cookies and swirls of chocolate pudding) at Ben & Jerry's, plus they were having a 3-fer sale: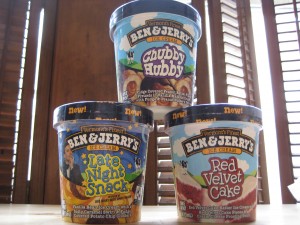 It's not the hubby who's going to get chubby around here, it's me.