Over at Tipsy Baker, Jennifer Reese has been writing about making banana bread here and here. She describes her ideal bread as having a custard-y texture. I like a heavy, moist banana bread, but a custard-y texture is going too far for me. Why not just make bread pudding out of banana bread rather than pudding-y bread? But to each her own banana bread, and it got me thinking about my own.
Melted butter. I put a stick of butter in the microwave for 30 seconds, which leaves bergs of butter then stir with a fork till the warm butter melts the bergs.
My carb addiction began pretty young, and I've been baking since middle school. So I've probably been baking banana bread for over thirty years. When it comes out right, which I'll discuss further, it's dark, heavy, moist, rich with banana flavor and studded with bright, sweet maraschino cherries. This is the recipe imprinted on me whose pull is so strong that I have to make an extra stop for maraschino cherries; my grocery co-op doesn't carry such a thing. (And after reading Reese's Make the Bread Buy the Butter, I know better than to attempt to make them myself.)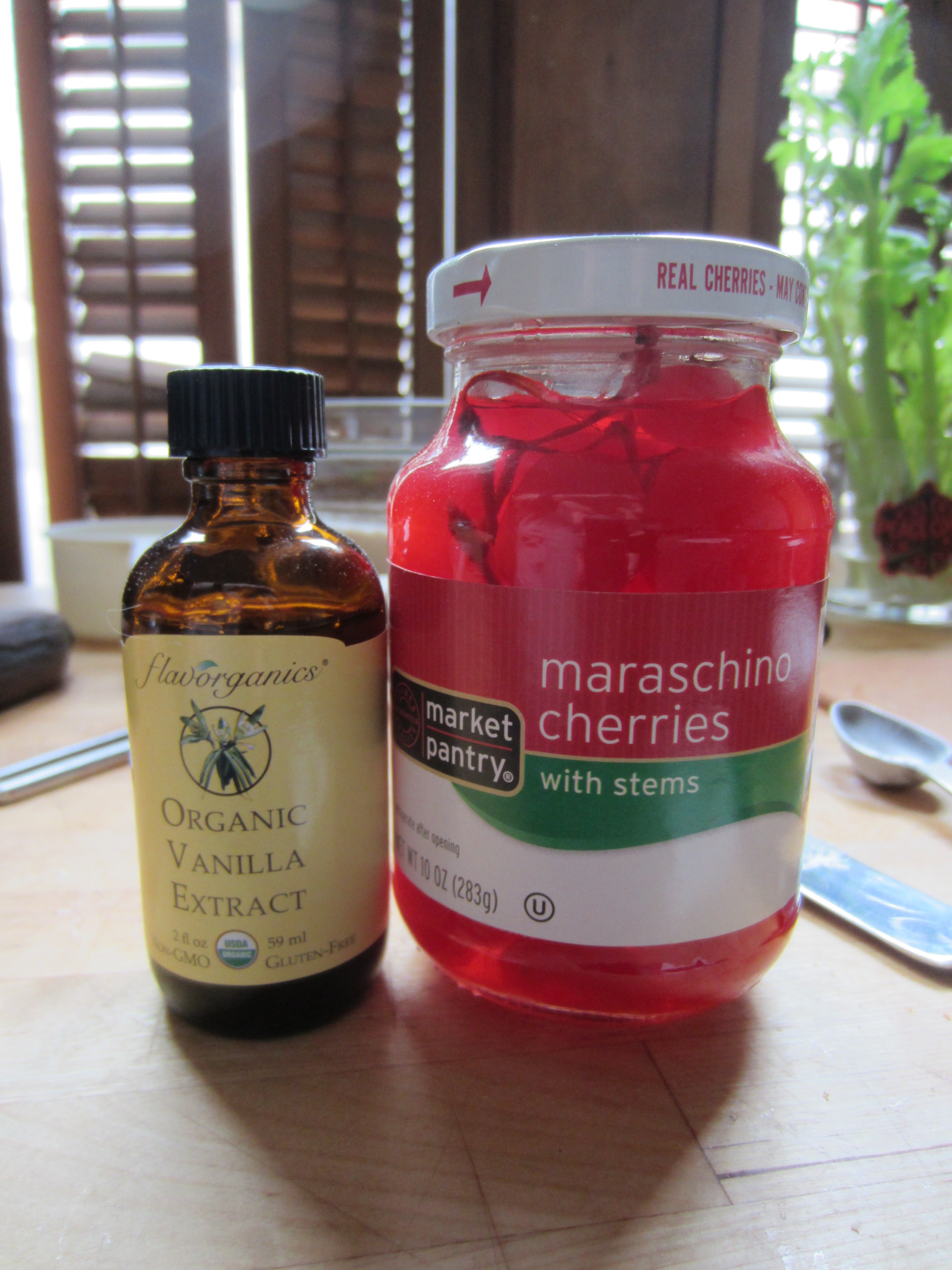 I used the chemically colored/flavored/sweetened cherries but not the organic vanilla in deference to the original recipe.
That said, I haven't been wholly faithful to the recipe over the years. A note that says to add the "juice" of the cherries to the recipe, which already has a cup of sugar, made a wet mess that took two hours to bake with a crust that had to be swathed in plastic wrap to soften it. (I put juice in quotes because the liquid the cherries are in is an unholy combination of chemicals that I only wish I could pretend was merely sugar water.) And the most curious instruction, to me, was to dissolve a teaspoon of baking soda in a tablespoon of warm water. I've never seen this instruction in any other recipe, and it makes me wonder if somewhere back in the old days there was a problem with clumpy soda.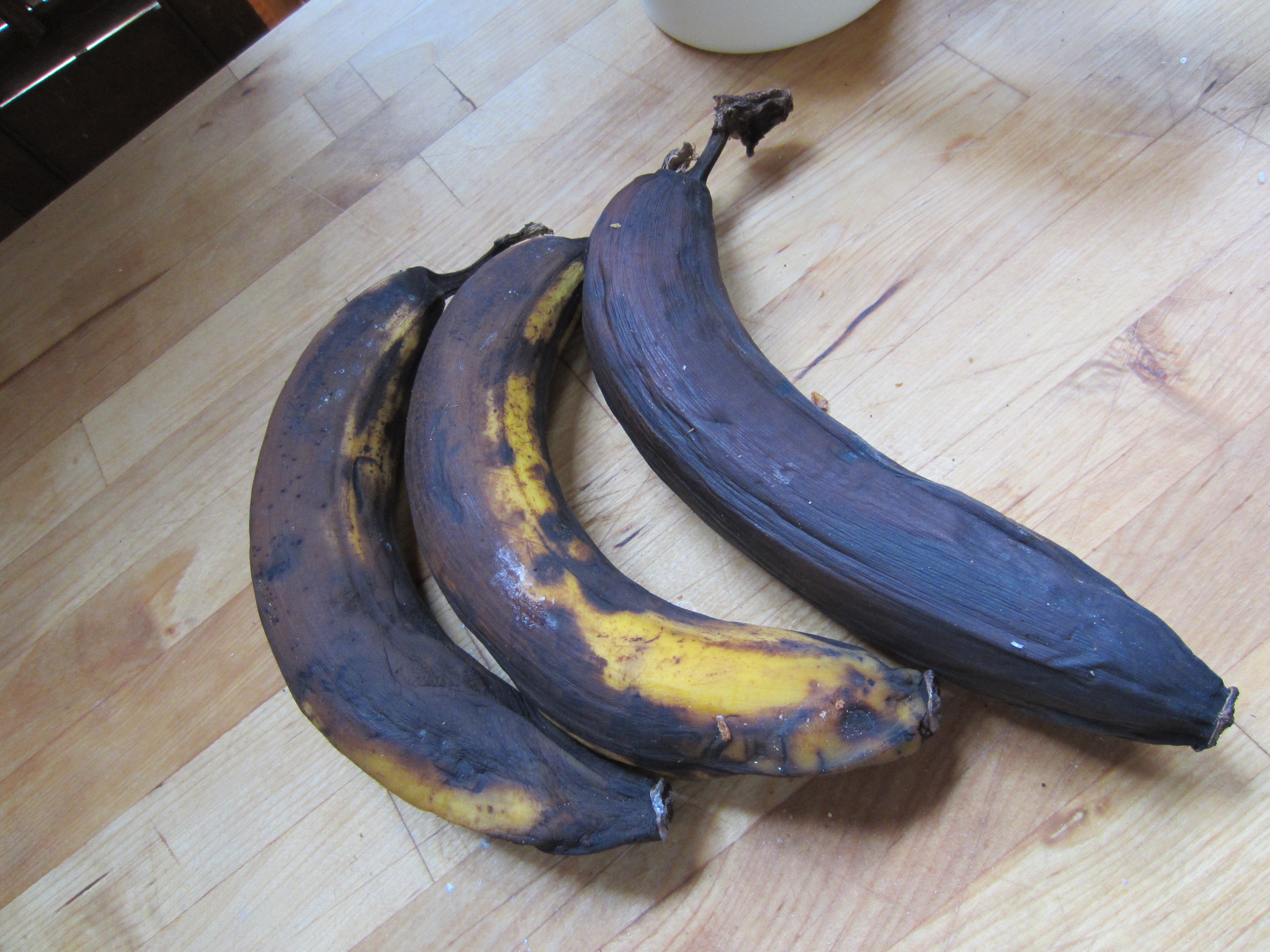 Black-enough bananas. If your bananas aren't this gross, you can roast them in the pre-heating oven.
But as I considered banana bread and looked at the tweaks I'd made to the recipe over time (a hybrid of my family's recipe with one from Cook's Illustrated) I realized what I had was really no longer my great-grandmother's recipe. So I called my grandmother and aunt to answer a few questions, and learned that while it is the recipe our family has been making for generations, it is not my great-grandmother's, but instead someone named Henrietta.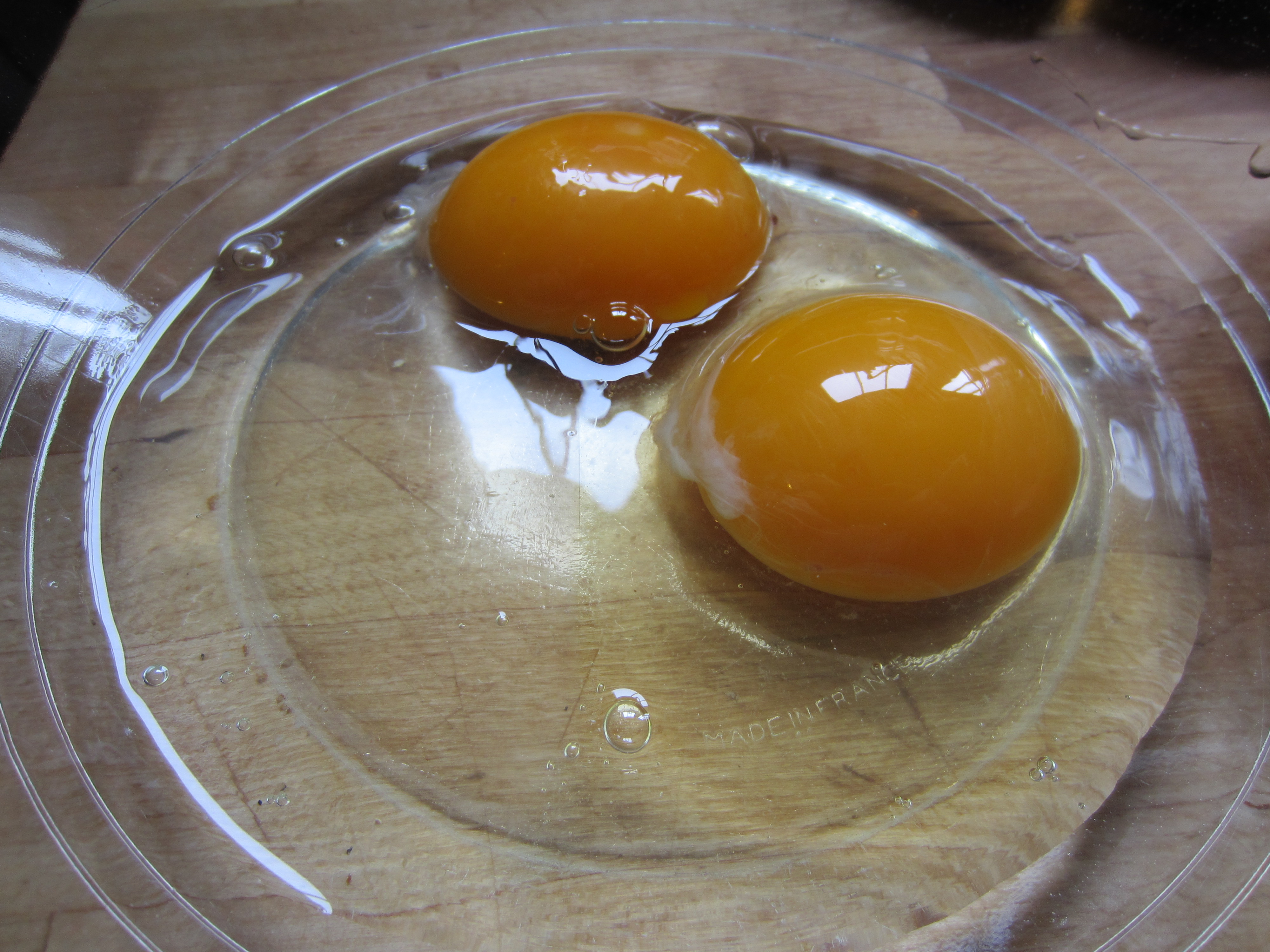 Eggs from happy chickens. Really–they have names and their owner pets them.
My 97yo grandmother wasn't clear on the exact relation to Henrietta, but I think she was a cousin, so I feel perfectly justified in continuing to refer to this as our family's banana bread.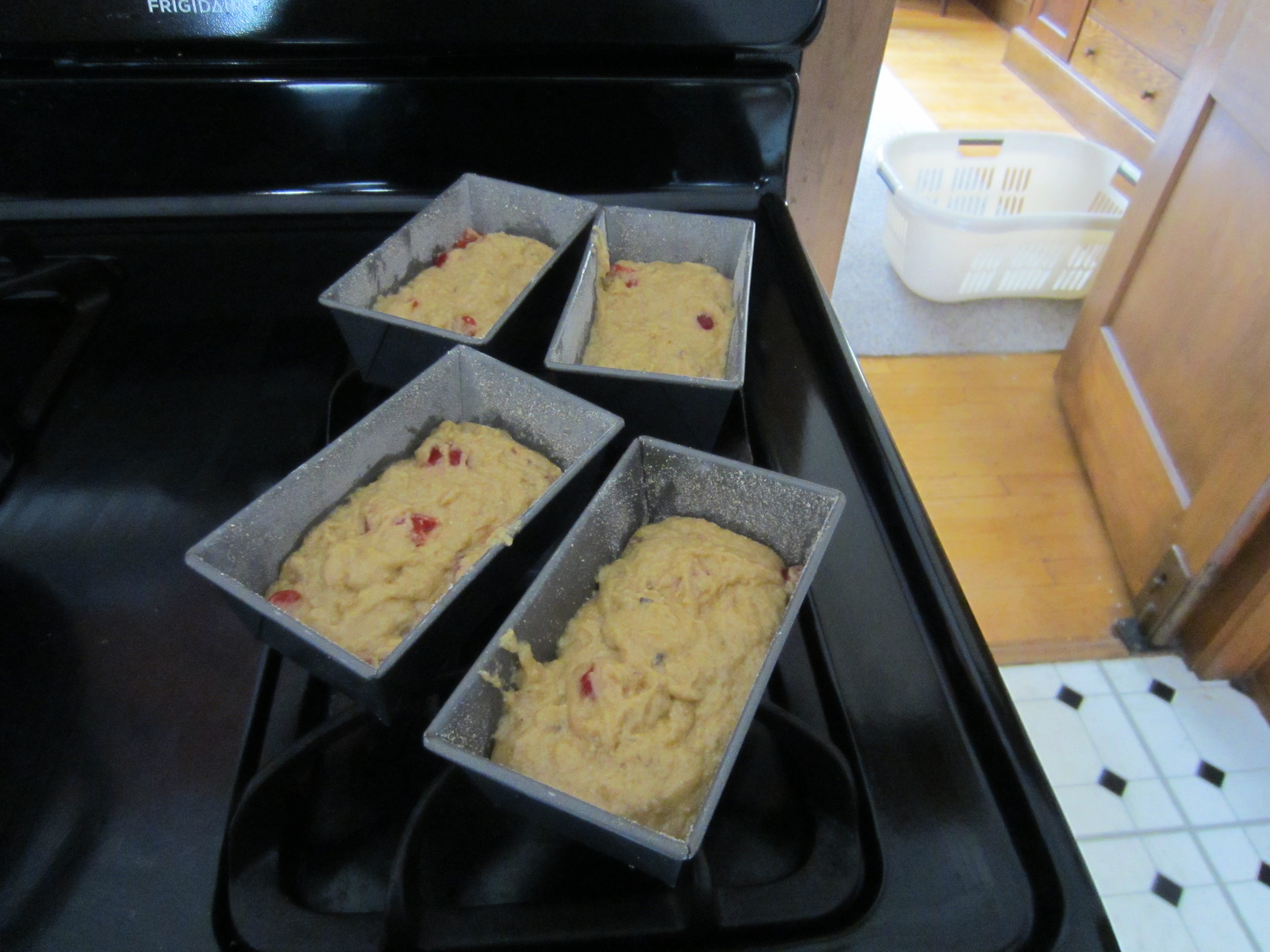 Buttered, floured sides give the bread something to cling to as it rises.
After this consult, where we checked the recipe against the one written on a flyleaf of my grandmother's Joy of Cooking, I decided to make the original recipe again, without the Cook's Illustrated tweaks to the ingredients. But I couldn't help but add some whole wheat flour, skip the dissolving of the soda, plus melt rather than cream the butter, which makes for a very easy, two-bowl, mix-by-hand batter. I was quite torn about vanilla, which the original recipe doesn't have but I usually add. But I steeled myself to omit it in the interest of science. Or historical accuracy. Or whatever.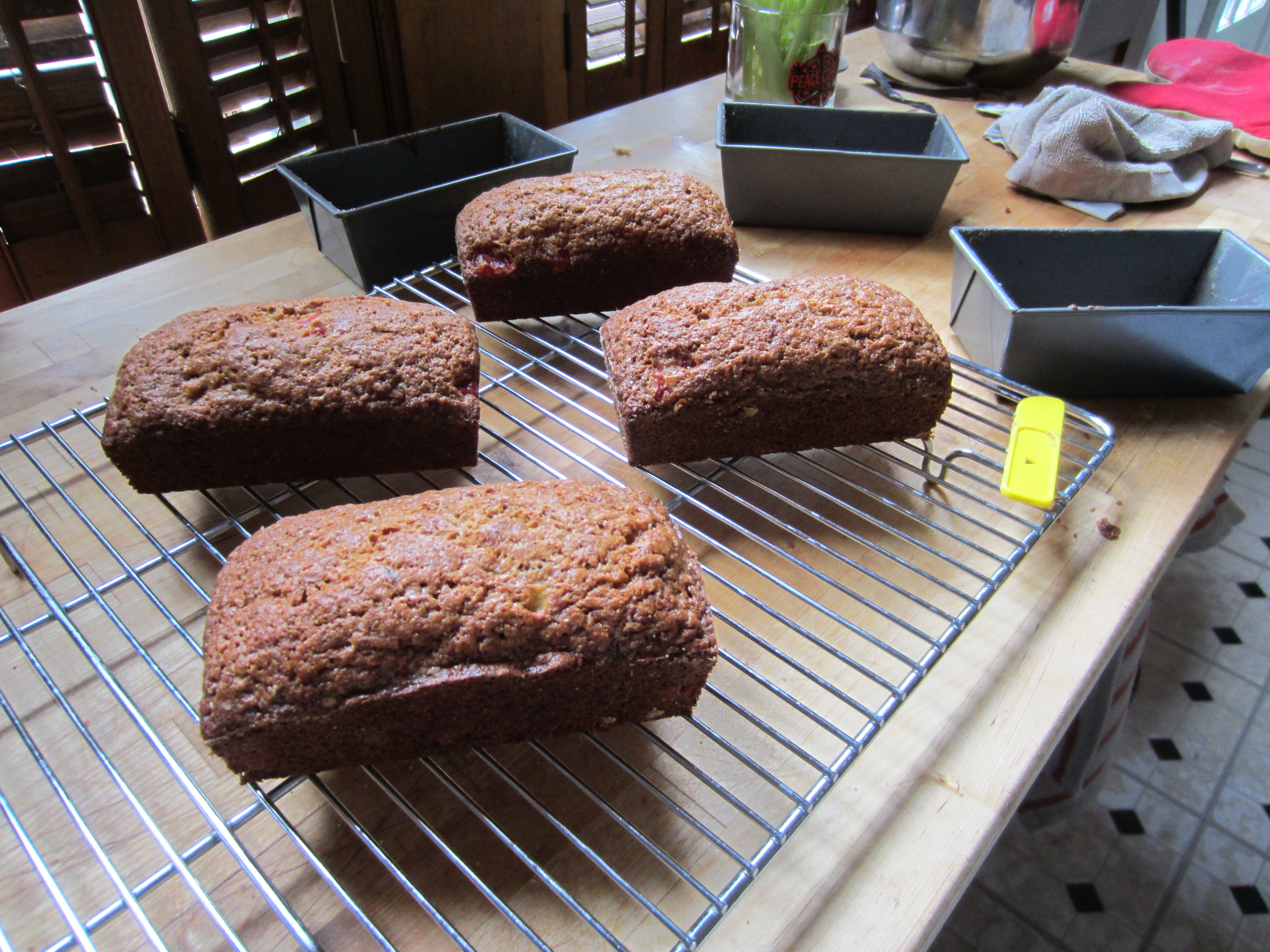 Why yes, I _do_ use a Play-doh knife to take the loaves out so I don't scratch the non-stick pans.
Alas, I was a little too clever. I divided the batter into four mini pans so they'd bake faster and the crust wouldn't grow too thick. But I let them overbake a bit. The results were good, but a bit dry. I'm going to have to try again before I declare the original recipe a winner.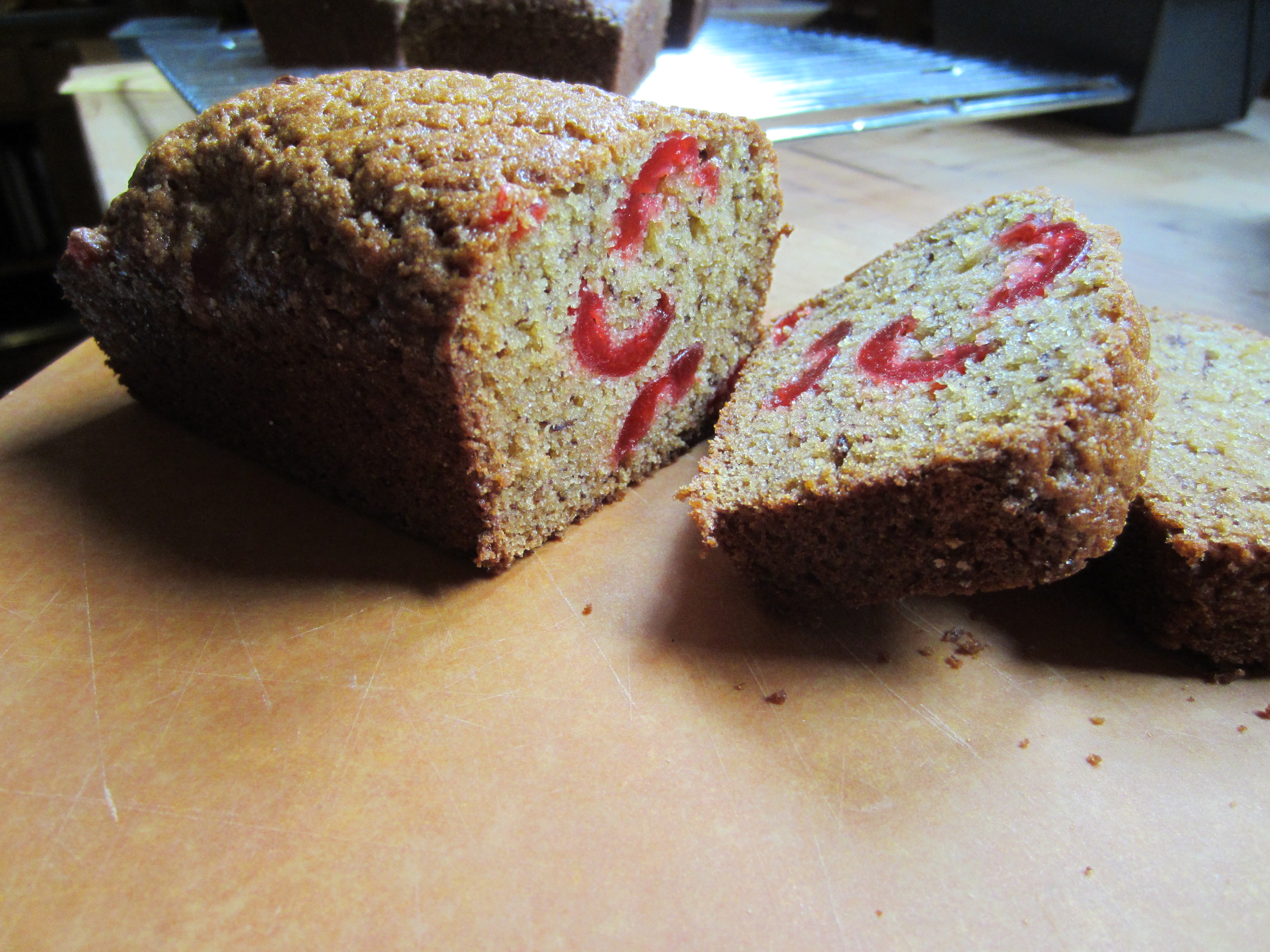 How about you; what's your ideal banana bread, or your family recipe?

Mostly The Family Banana Bread
makes 1 standard loaf or 4 mini loaves
1/2 cup butter (1 stick) melted then cooled
2 eggs
3 mashed black bananas (about 1 1/2 cup)
4/3 cup all purpose flour
2/3 cup whole wheat pastry flour
1 cup sugar
1/4 teaspoon salt
1 teaspoon baking soda
1 small jar maraschino cherries, stems removed, rinsed and torn in halves.
Preheat oven to 350. Butter and flour loaf pan(s).
In medium small bowl, stir butter, eggs and bananas together. In medium large bowl, whisk dry ingredients together. Lightly fold banana mixture and cherries into dry ingredients with rubber spatula until just combined. Batter will be thick and chunky but there should be no flour streaks. Scrape batter into pan(s) and bake till golden brown, about 55 minutes for a large loaf, or 40 minutes for small ones. Tester should come out clean. Cool in pan 5 minutes, then on wire rack.