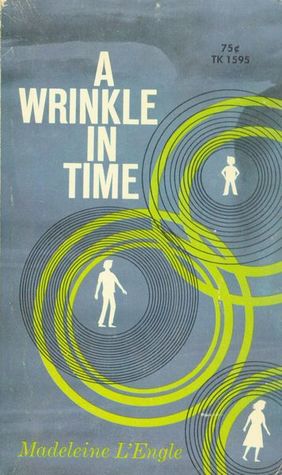 If I had to pick just one book to read from chapter 1 of Lizzie Skurnick's Shelf Discovery, it was going to be A Wrinkle in Time by Madeleine L'Engle. I remember checking this book out of the Evening Street Elementary School library, and the librarian telling me she didn't think I was old enough to read it. And from there it stands in my memory as the first of my favorite books.
I bonded with Meg Murry, the self-conscious, awkward heroine:
She looked at herself in the wardrobe mirror and made a horrible face, baring a mouthful of teeth covered with braces. Automatically she pushed her glasses into position, ran her fingers through her mouse-brown hair so that it stood wildly on end, and let out a sight almost as noisy as the wind. (8)
The rhythms and plot points of the book had blurred over time, but re-reading felt like getting on a bicycle, or catching up with an old friend–the balance never left.
A few things that struck me reading this as an adult: Charles Wallace would have been evaluated for autism/Asperger's by the time he was five in this day and age. It's hard to read IT just as 'it' now, and not as EYE TEE (information technology). And, wow, the climax of the novel is on page 253, and it ends three pages later. A denouement would have been really nice. Still, I loved this book then, and now love it again. It is physically hard to restrain myself from going off to read A Wind in the Door and A Swiftly Tilting Planet.