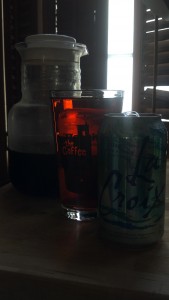 Summer is kind of over–9yo Drake and 6yo Guppy boarded the school bus this morning, and I've spent the day reading, writing, staking floppy tomato plants, weeding, and doing laundry while through it all revelling in the peace and quiet.
I never knew how much I disliked noise and mess until I had a child. Then another. Both boys.
But anyway. I had a lightbulb moment earlier this summer and added a splash of cold-brewed coffee to a glass of fizzy water, and I've been drinking it ever since. Twelve ounces fizzy water (I favor La Croix plain) with an ounce or two of cold-press coffee are two great things that go great together. So even though the kids are back to school, leaves are falling and the squirrels are leaving walnut casings on the sidewalk, I think I've still got a few more weeks of warm weather to keep enjoying this.