I've been writing about Halloween Candy, and detailed my tops picks at Minnesota Monthly's TC Taste Blog.
But in "researching" that article and another I just turned in, I may have gotten a little carried away procuring this year's treats to hand out next week: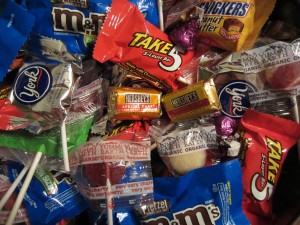 Every year we run out. This year might be different.
What's your favorite Halloween candy? I did a poll of the bus stop moms and was surprised to find two of my most-hated candies were picked as most loved by others: candy corn and Three Musketeers (nougat=blerg). To each her own; vive la difference!