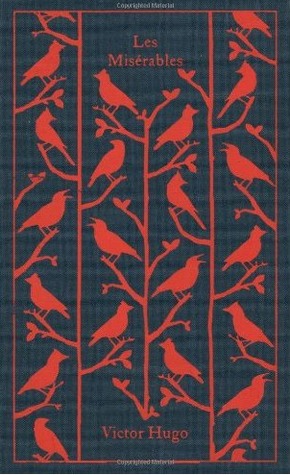 HEY, Y'ALL! I FINISHED ALL 1231 PAGES OF LES MISERABLES!
Before I read this book, I didn't believe in abridgements of books. Now I do. Seriously, this book begs to be abridged. The edition I read was lightly abridged, and it was still overly long, with stultifying digressions and redundancies, even aside from the two (on cloisters and argot) that Denny, the translator of this edition, chose to put as endnotes. Long chapters that digressed away from the story, on related things like the Paris sewers, were almost always slogs that sometimes defied this reader's will to keep going. If you are going to read this book, I recommend that you skip digressions. You can tell which they are because they don't have the main characters. I believe you will lose little or nothing. Perhaps this is me being a cretin or a lowly literate reader, but I stand by this advice.
If the book were only the story of Jean Valjean, Marius , Cosette, Fantine, Javert, Eponnine, the Thenardiers and Gavroche, then this would be a whopping good tale. See the success of the musical as proof. Interestingly, I found the book to have a much more involving and satisfying end than did the 2012 film adaptation, and I was amazed that near the end, after so many pages, I sped up to a gobbling pace.
A word about the particular edition, the lovely Penguin Hardback Classic with the red cardinals. Many of those cardinals disappeared over the course of the reading in little flakes of red paint. These Hardback Classic editions are lovely objects (I have several), but alas, do not stand up well to actual reading. The Penguin trade paperback version is one of the only film tie-in covers I don't find offensive, plus it would have been easier to schlep around for the many weeks I was reading. For portability and true unabridged-ness, I tried the Signet mass-market edition edited by Fahnestock and Macafee, but switched to the Denny HC because it was pretty, because the MMPB print was too small for my aging eyes, even with bifocals, and because the translation to me felt stiff.