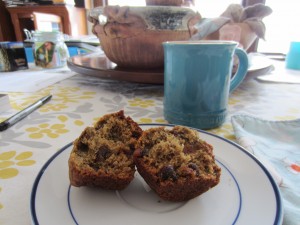 Technically, these are Espresso Chocolate Chip Toasted Walnut Whole Wheat Banana Muffins.
A$$load of Adjectives Banana Muffins? Bada$$ Banana Muffins?
I still have this brain-eating virus, so I'm cursing a lot. Not sure I'm very far off from Flowers for Algernon, here. Sorry if the cursing offends.
Call them what you will. They turned out good. I'm sure I've shared something like them before, but this was today's iteration.
Banana Muffins With a Bunch of Stuff in Them, a mashup of recipes from Baked, Super Natural Cooking and an index card recipe ca. 1998 that came either from the Philadelphia Inquirer or The Star Tribune.
makes 12
1/2 cup (1 stick) salted butter, melted then cooled (or unsalted butter and add 1 tsp. salt to dry ingredients. I was out of unsalted butter)
3 mashed very ripe bananas
1/2 cup sugar
1/4 cup firmly packed brown sugar
1 large egg
1/4 cup creme fraiche (see recipe from yesterday, or use sour cream, milk, yogurt, whatever)
1 cup all-purpose flour
1/2 cup whole-wheat pastry flour (you can also just use 1 1/2 cup AP flour)
1 Tablespoon instant espresso powder
1 1/2 teaspoon baking soda
1/2 cup chocolate chips
1/2 cup toasted, cooled then chopped walnuts
1. Oven 350. Spray 12-cup muffin tin.
2. Stir together butter, bananas, sugars, dairy item and egg in a medium-small bowl.
3. Whisk together flour, espresso, soda in a medium-big bowl.
4. Put wet ingredients into dry. Stir till just mixed, then fold in chips/nuts.
5. Using ice-cream scoop fill muffin cups 3/4 or so full. Bake 20 minutes till tester comes clean.
6. Cool pan on rack 15 minutes. Remove muffins, cool rest of the way on rack.
Muffins can be stored in an airtight container for a few days. Like they'll last that long.
The recipe calls for one eggs, but I took pictures of three because I thought they were pretty: