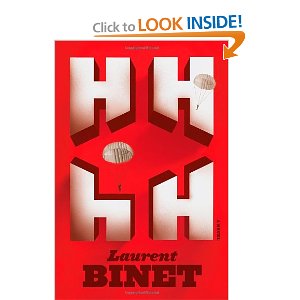 I would not have read HHhH, written in French by Laurent Binet and translated by Sam Taylor, except it's a contender in The Morning News Tournament of Books, and I'm so glad I did. This is a head-tippingly original and thought-provoking book.
It's billed as a novel, but it's not, exactly. It's Binet's attempt to tell the history of Reinhard Heydrich, a Nazi villain I'd never even heard of but will now never forget. It's the true story of how two men, one a Czech, another a Slovak, were tasked to assassinate Heydrich, also known as The Butcher of Prague. Taylor pieces together documents, his own reactions, some fictionalizations, which he then identifies as fictional, into a mesmerizing taken on historical fiction. It's unapologetically subjective, with Binet and his biases appearing regularly. He'll write something early on, and revise it later. Perhaps my favorite example of this is how, as the story is coming to an end, he notes how difficult it is to write, and includes the dates, so we can see how long it took the author to bring this story to a close.
I could include exemplary bits, but I am tired of typing, and really, you should just go read this book. Especially if you're a writer. Or you like historical fiction. Or WWII. Oh, just read it.