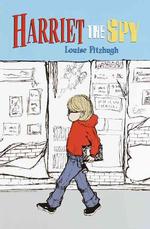 I'm trying to balance my Brothers Karamazov summer read with shorter, funner books. During my Shelf Discovery reading project last year, I never got back to Louise Fitzhugh's classic Harriet the Spy, but she's waited patiently, so I recently pulled her off the shelf.
It was a joy to meet up with Harriet again, she of the notebook, spy clothes of jeans and sweatshirt, and capital letter observations, many of which are hilarious, but many of which also are thoughtless and cruel, and these two things aren't exclusive.
THIS IS INCREDIBLE. COULD OLE GOLLY HAVE A FAMILY? i NEVER THOUGHT ABOUT IT. HOW COULD OLE GOLLY HAVE A MOTHER AND FATHER? SHE'S TOO OLD FOR ONE THING AND SHE'S NEVER SAID ONE WORD ABOUT THEM AND I'VE KNOWN HER SINCE I WAS BORN. ALSO SHE DOESN'T GET ANY LETTERS. THINK ABOUT THIS. THIS MIGHT BE IMPORTANT. (13)
Other than Harriet, my other favorite character was her nurse/caretaker Ole Golly. Interestingly (spookily?) Ole Golly quotes from Dostoievsky on page 22:
Love all God's creation, the whole and every grain of sand in it. Love every leaf, every ray of God's light. Love the animals, love the plants, love everything. If you love everything, you will perceive the divine mystery in things. Once you perceive it, you will begin to comprehend it better every day. And you will come at last to love the whole world with an all-embracing love.
Which is from section (g) in Book VI, Chapter 3 "From Talks and Homilies of the Elder Zosima" of Brothers Karamazov. WHICH I JUST HAPPENED TO BE READING AT THE SAME TIME. Odds on that, please?
Alas, Ole Golly and Harriet part ways, and without her guidance, Harriet gets into trouble when her school friends discover what she's been writing. They ostracize her, in a section of the book that was painfully easy for me to remember/empathize with. Gah. Middle school. It's one of the reasons I chose a K-8 school for my boys.
The book is odd, in that it doesn't follow a clear crisis/realization/redemption outline. By the end of the book, it wasn't clear to me that Harriet was much the wiser about WHY everyone had been so hurt by what she'd written. But she also refused to conform, and did not become domesticated, which is a far more important conclusion to me. A little self insight is better than none, even if she was still perhaps too callous by the end, especially of her treatment of the family cook, and those of different socio-economic class around her. Then again, she's 11. The upshot for me: still overly dense/cruel (Asperger-y, unempathetic?) by the end, but improved, and without caving in and becoming something not herself. Odd, funny, sad, and good, it's also an intriguing look at the upper class of NYC in the 50's/60's.