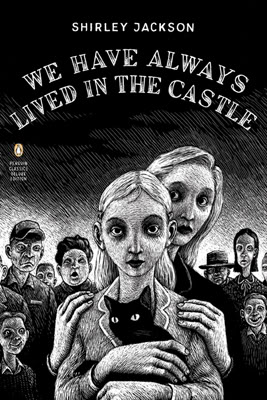 I am abashed to admit that Shirley Jackson's We Have Always Lived in the Castle is the first novel of hers I've read. Like most people, I'm familiar with her short stories "The Lottery" and "Charles." I'm not sure those can be forgotten after having been encountered. I now feel the same way about We Have Always Lived in the Castle, which opens:
My name is Mary Katherine Blackwood. I am eighteen years old, and I live with my sister Constance. I have often thought that with any luck at all I could have been born a werewolf, because the two middle fingers on both my hands are the same length, but I have had to be content with what I had. I dislike washing myself, and dogs, and noise. I like my sister Constance, and Richard Plantagenet, and Amanita phalloides, the death-cup mushroom. Everyone else in my family is dead.
Mary Katherine, or Merricat, is our extremely unreliable narrator in this tale of alienation and class warfare in small-town America. The black-and-white art by Thomas Ott on the Penguin Classics Deluxe Edition perfectly suits the novel. The introduction by Jonathan Lethem should only be read after, as is true of nearly all introductions, because it contains SPOILERS. We Have Always Lived in the Castle is a mystery by turns funny, enchanting, and terribly sad. I was utterly engaged.