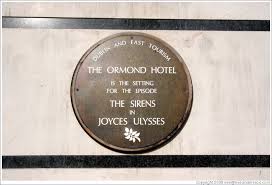 Welcome back the Ulysses readalong. You can join in by commenting here, or by tweeting with the hashtag #TCUlysses. This week we tackled Chapter 11: Sirens. The first time through was somewhat bewildering for me, as is often the case. I was helped immensely by the note in Gifford that this is a musical chapter, and the opening is like a rehearsal, or perhaps an entr'acte?, that glides over the major points to follow, and concludes with "Done!" and the action begins with "Begin!"
As in music, several motifs are repeated throughout. The sirens of the title are most obviously the two barmaids who flirt and are flirted with. Less obvious, though, I suspect it's the siren call of the past and the lotus-like inertia brought on by nostalgia.
Bloom sees Boylan for the third time that day, and dares to follow him into the Ormond hotel. I'm not sure I have this right, but it seemed like Bloom feared Boylan's assignation with Molly would take place at the Ormond, but Boylan leaves before Bloom does. Is he off to see Molly? Is Bloom imagining the affair?
In any case, Bloom eats lunch, listens to the music, then feels lonely, writes back to Martha, then breaks the spell by leaving before the end of the song The Croppy Boy that the other men are so moved by. And ends the chapter by avoiding a homely prostitute he's been with before, and farting intermittently then loudly when loud street sounds will cover it.
What did everyone else think this week?
Join us next week on 4/13/15 for Book 12: Cyclops. The schedule for the rest:
4/20/15 discuss and tweet section 13
4/27/15 discuss and tweet section 14
(3 weeks to read the very long section 15 which we'll spit into three chunks)
5/18/15 read, then discuss and tweet section 15
5/25/15 discuss and tweet section 16
(extra week to read the longer section 17)
6/8/15 read then discuss and tweet section 17
6/15/15 discuss and tweet section 18
6/16/15 Bloomsday!
Past posts:
Ulysses readalong week 1, books 1 and 2
Ulysses readalong week 2, books 3 and 4
Ulysses readalong week 3, books 5 and 6
Ulysses readalong week 4: book 7
Ulysses readalong week 5: book 8

Ulysses readalong week 6: book 9
Ulysses readalong week 7: book 10