Saturday, May 17th, 2014
As a parent, and as a reader, I know I'm supposed to read the same books my kids do, and talk to them about it. But because I let them choose what they want to read, they read a lot of stuff I simple can't summon up the gumption to read along with: Garfield, Geronimo Stilton, Big Nate, Pokemon, and on and on.
Hmm. Maybe that can be there someday band name: Pokemon and On?
Also, when I have tried to discuss books with them, they clam up. Or, in one memorable sad case, I kept asking one of the boys about the bomber in The Westing Game. And finally, he said, "Oh, it was X" and then refused to talk about it more. And X was the wrong character! My head nearly exploded.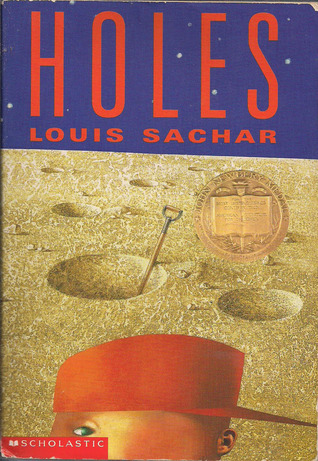 But that was a while when the 10yo said he was reading Holes, which has been recommended to me by umpteen gazillion people, I thought it was time to act like a responsible reading parent and read it too.
Holes is about a kid named Stanley Yelnats who is wrongly sentenced to a juvenile detention camp where they are required to dig holes. Interspersed with Stanley's present misery is his backstory, as well as a backstory about a woman named Kate. The book is simply written, and proceeds at a good clip as all the stories meet and mesh, then end on a hopeful note. My 10yo, who is sitting here reading over my shoulder as I write this, said that what he found interesting about Holes was how the reader knows so much more than Stanley does, and as the stories crossover, it makes sense to the reader but poor Stanley is clueless about the significance of the things he's done.
I can see why Holes is popular, and recommended. But I found it lacked a complexity that makes a book good for both kids and adults. It's good, but I didn't find it great, so if any readers out there did, I'd love to hear your perspectives.